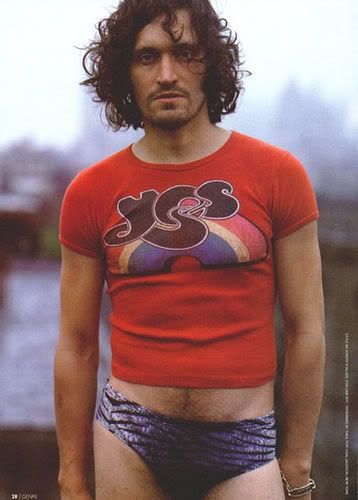 STR-ETCH!

Holy crap. It's been a while, eh? Let me wiggle my buns back into the throne of gossip. Hmmm - feels a bit strange, perhaps my balls have grown since we last talked? Hey! Speaking of balls - if you saw the movie Brown Bunny, first - I'm sorry. And second, you may or may not have seen Vincent Gallo's real live wang! Apparently him and some dude are in a heated e-mail battle over the authenticity of said wang that Girl #2's favorite celebrity Chloe Sevigny gave suckle to. Page Six reports on this breaking story:


Gallo ranted in an e-mail: " 'The Brown Bunny' is an ultra-low-budget film. With that in mind, the expense to create a prosthetic that could pass on film would be well out of the film's budget, and so far no one has come close to making such a thing pass as real...Why then does Scheck promote doubt about the scene's authentic nature? I speculate it's because Mr. Scheck most likely has a very small, ugly penis and needs to believe that only in make-believe does anyone have one like mine!"
Oh man! I haven't heard wang insults like this since I peeped into the high school boys locker room. Yesterday. But the fun doesn't stop there. Page Six chose to end this story with this gem:
Gallo is well known for his off-the-wall insults. He once called critic Roger Ebert a "fat pig with the physique of a slave trader" and wished cancer on him for a bad review. Ebert eventually did come down with the disease.
That's right folks, if Gallo wishes pain & suffering upon you - you better be prepared to face the impending consequences. So, Roger Ebert, maybe you'll think twice next time before giving Gallo a bad review. That is, unless you die of the cancer that he caused before you can review his next wonderful masterpiece work of cinematic genius. I can't believe I've been mistaken all these years! I always thought that Gallo's disease inflicting powers were limited to just looking at him and catching the HIV. Glad I read Page Six today and was corrected.
Man...that felt kinda good! Maybe we'll continue to post every now and again. Thanks for remaining so true to us, loyal readers. Like
Girl #2
said - don't call it a comeback. We still probably won't be posting at the same frequency as we used to - but maybe we'll make a moderate effort going forward. One thing I can assure you is...this shit's far from over.