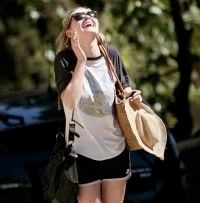 Kirsten Dunst is a dick twat. That's what we'll be deciding anyway. I think dudes like her because she's got big boobs, but need I remind you dudes that she has a jacked up grill that will shred up your wang like coleslaw. What'll it be dudes? Titties or shreded wang?

Kirsten Dunst thinks she can read. Twat

I guess some people liked her as that child vampire. Don't say I never did anything for you, child vampire fans. Not-A-Twat

Kirsten Dunst got to bone Jake Gyllenhaal and I never will. While I know this is just my jealousy talking - Twat

Kirsten Dunst was in Drop Dead Gorgeous. Luckly for her, that movie is good enough to give her a vote of Not-A-Twat

"After Marie Antoinette, I was feeling that I had to prove myself. Ugh. Like, I didn't do it. I didn't prove myself enough. Then I thought, Whatever. I'm in a really happy place, and I want to do a fun movie. Why do I want to be superserious chick all the time? I have a dark side, but I also like comedy, so I think next I want to do something that's super over-the-top." Twat

The TWAT's have it! Unless some of you can tell me why this dumbass is not a twat - I'm going with twat. Is there anything at all redeemable about her? Aside from her floppy boobs (if that's your thing)?