Are those catty, superficial lesbians getting to you, girl? Listen, Janeane Garofalo, don't go all anorexic on us just to keep the lipstick lesbian crowd. You'll always have the butch ones that will continue to think you're gay no matter what you tell them! And their standards are really, really low. So low, in fact, that you can walk into a truck stop wearing nothing but a potato sack and just point to your vagina until one of them crawls out from behind the claw machine and takes you into the cab of her semi to have her way with you...so I've heard...

Anyhoo - you should really eat something. I know that Air America thing didn't really work out, but that's no reason to starve yourself! Just four short years ago, you looked like this: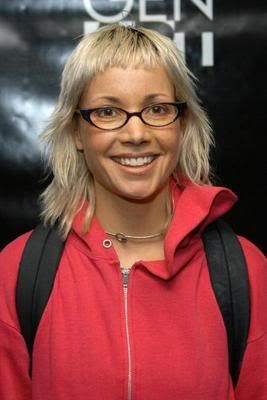 What a difference four years makes. That look, at least the hair, wasn't really that great - but at least you were eating AND keeping the lesbians in check. Pull yourself together, girl! You have a sweet movie coming out! All is not lost!