He's certainly got the moves. He's got a catalogue of great jams that I celebrate often (more on that later). And he might be gay. But the question remains: Is Usher a Twat or Not-A-Twat. We're about to find out. Hey yo, pisswad, you're in my way...it's Blank or Not-A-Blank!

I'm a bit scared to focus on Ursha this week, as he is currently trying to shut down his biggest fan site for hating on his man of a fiance, Tameka Foster: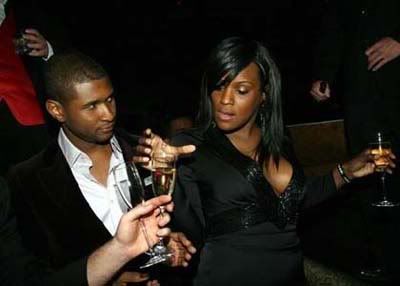 You look confused, unsure, and a little scared, Usher. As you should be. That ho is double-fisting drinks and you know she'll probably demand to put it in your pooper after she's had a few glasses of that champagne. But, I digress. If Usher wants to shut down his biggest fans simply because they are looking out for him and the well-being of his starfruit, whose to say his lawyers aren't going to come after me once they find out that I think he's a twat? Twat

You know that Usher recently fired his mom too, right? What is going on with all of these ungrateful hollywood stars nowadays? In case you forgot, Usher, your mom squeezed you out of her vagina, and that gives her the right to run your career anyway she sees fit. What do you think? She had you for fun? I'm having at least 10 kids in hope that I can live out my unfulfilled dreams out through them, just like the best & most successful Hollywood moms do. Twat

But wait, Usher had some great jams. Favorite Usher jams include:



and...



Ah, yes. I love the way he turns a coughing noise into a lyric, and how he eloquently uses the word "chew" to mean both "with you" and "what you do". Nothing short of brilliant, that U-S-H-E-R-R-A-Y-M-O-N-D. Not-A-Twat

Did you know that there is a disease called Usher syndrome? I think I have it. It is defined as:


Usher syndrome is the most common condition that involves both hearing and vision problems. The major symptoms of Usher syndrome are hearing impairment and retinitis pigmentosa, an eye disorder that causes a person's vision to worsen over time.
I'm pretty sure that I contracted Usher syndrome by being forced to hear the song
Yeah
everywhere I went during 2004-2005. Hearing that song made me stab myself in the ears rendering me hearing impaired. And everything I saw turned into an Usher bobblehead once I heard that annoying siren kick in. If that's not the definition of 'worsened vision' I don't know what is. Now I'm (even more) diseased (than I previously was). Thanks a lot, Usher.
Twat
So far, it looks like that Ursha is most definitely a
twat
. Something else that I can safely say: I most definitely will be receiving a letter from Usher's "people" (read: man-wife) very soon. So hurry up! Weigh in, in the comments before the man (his literal man-wife) shuts us down! While you're doing that, I'll be...IN the CLUB with my HO-mies...oh god...not again!