Usher and Tameka Foster's wedding ended in the same manner that their relationship began, in a shroud of secrets and lies, and with an air of suspicion.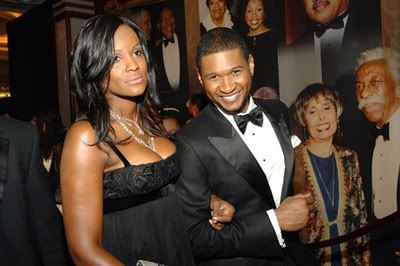 Hours before the afternoon ceremony was to take place in Southampton, N.Y., Usher's publicist Patti Webster issued the following statement:


"It was announced today that the wedding ceremony for Usher Raymond IV and Tameka Foster was canceled. No additional information will be given regarding the circumstances of the cancellation, but we hope the privacy of this matter will be respected."
The speculation as to why the wedding was called off is endless, and you know they ain't talkin' so I'll just have to give you my top 5 reasons.
1) The couple have too many differences.
People Magazine
reports that the "bride" wanted to serve guests ( Janet Jackson and Beyonce among them) barbeque and Usher wanted some
siddity
renown chef to serve some fancy shit. I'm with Tameka on this one, black people love BBQ! Plus the thought of her sucking the meat off a rack of ribs is funny. And a lil bit frightening.
2) Usher don't wanna be nobody's daddy! Y'all know that bitch got three kids already by, I can only assume, three different men.
3) A bitch got a record

4)Usher needs his Mama. As a mamas boy, I can understand. Who is going devote themselves to raising you and making sure you're happy? It's not that Tameka bitch, she already got kids to take care of. Who will constantly dote on you and make you feel as if no other woman will ever be good enough for you, forcing you to run into the arms of the first guy that touches you inappropriately? Mama will.
5) The couple is too much alike. In a
Boys Don't Cry
kind of twist, Usher realized that the woman he was boning and supposedly knocked up, was really a dude that he was just putting it in the ass with and did not get pregnant. Cause it's
impossible
!