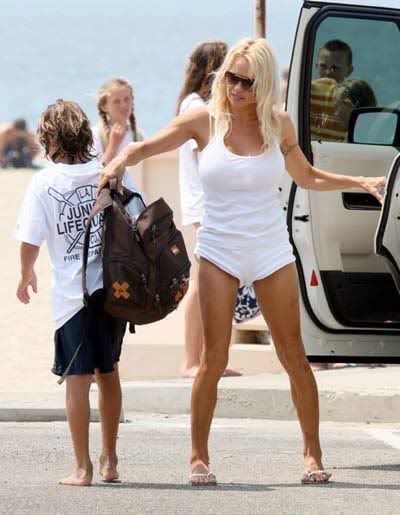 TGG brings you an EXCLUSIVE conversation overheard in my mind between Pamela Anderson and her son Brandon:

Brandon: MOM! I thought you said you wouldn't wear your diaper to the beach anymore! It's EMBARRASSING!

Pamela Anderson: Son, some men would kill to get all up in this diaper and fangle your mom.

Brandon: Yeah, mom - I know. You tell me everyday. But I think these "men" you are referring to are called "crackheads", and they only want to 'get all up in there' as you so eloquently put it - because that's where you store your rocks.

Pamela Anderson: What MORE must I do for you, boy? I try to get some attention your way by not wearing a bra: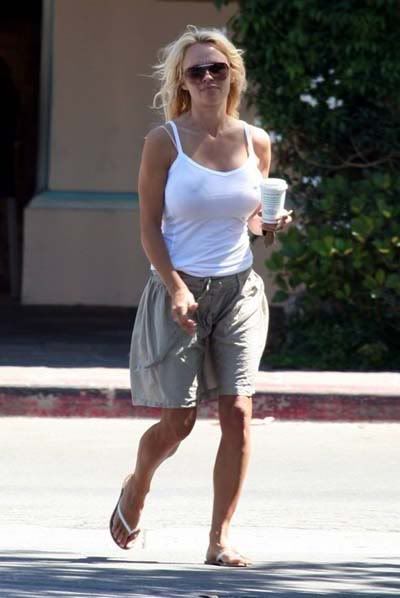 and you still complain! I can't even wear my favorite diaper to the beach without you bitching about it. Do you want to go live with your Dad and his new disgusting girlfriend?

Brandon: These really are my choices, eh?

Pamela Anderson: Yes, son. Yes they are.

Brandon: Well...let me get back to you on that one. I'm going to go swim out into the ocean and hope that I get too tired to swim back and drown, thus ending my pitiful existence. If I come back, I guess I'll continue living with you, and hating life more and more with each passing moment.

Pamela Anderson: That'a boy. Now off you go!