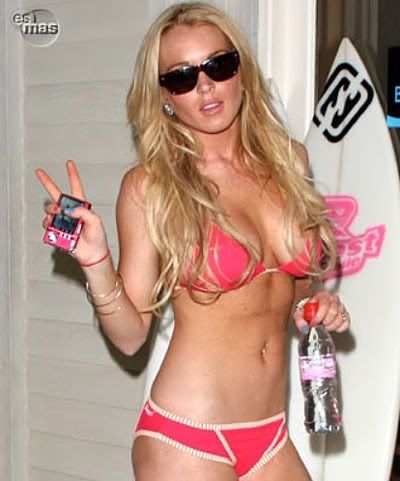 Three dudes who were involved with the latest Lohan DUI scandal are telling their story to TMZ. If you are a glutton for punishment, go over there and watch their "testimony". I'm feeling generous this Friday morning, so I'll recount the alleged story for you:


Lindsay Lohan is a dirty racist. Three dudes (two brothers, one honkey) were trying to get into her party in Malibu the night of her arrest. Lindsay only let the white man in (racist move #1). The two brothers are forced to wait outside. Lindsay, as wasted as can be, gets in a fight with her assistant. The honkey & the brothers get in their car to leave, and Lindsay jumps in the drivers seat. Brother #1 tries to get out of the car and Linday Lohan RUNS OVER HIS FOOT (racist move #2). She takes the remaining brother and the honkey on a high-speed chase, telling them "Don't touch me! I'll sue you" and my personal favorite, "I can't get in trouble, I'm a celebrity. I do what I want". Lohan chases the car containing her assistant who just quit this bitch straight to the police station, where she tells the cops "the black kid was driving" (racist move #3). What a g.d. racist.
So there you have it. Lindsay Lohan is allegedly a racist. TMZ also has the
911 tape
. The mom of the assistant called 911 and said that a "gentlemen was driving". Are the three dudes liars? Probably. Is the mom of the assistant also a racist? Undoubtedly. Do we care anymore? Unfortunately...Maybe.