UsWeekly reports that after over two years of bliss, Jessica drops Cash faster than you can say "Dark Angel." Sources say that Jessica broke up with Cash via telephone, calling to tell him "I'm not in love with you anymore." Then, (this is my favorite part) she sent her assistants to her home in L.A. to pack up all his shit and move him out.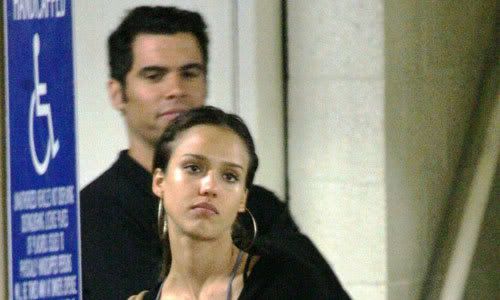 Yeah...he bores me too Jess.

What could be the cause of such a sudden decision? Some say it could be the rumored relationship between Jessica and .....wait for it.... 50 Cent. I think this exactly what she needs right now. A bonafide money making thug like Curtis is sure to get Jessica some of her cred back after denying her Mexi heritage. Plus who doesn't love a thug?

Cash on the other hand, isn't doing so well. The breakup came out of nowhere and he is understandably devastated. Having seen Jessica Alba I can see how. Even though Cash is a producer of some kind, by Hollywood's standards, he's pretty much a regular guy. I think he should be happy that he got to stick his penis in her for as long as he did.

I truly do wish the best for these two. Jessica, enjoy 50's jewel encrusted penis and try not to cry too much when he whoops your ass, as he surely will end up doing (thug love ain't free) and try to protect your face. Cash, I ain't got much for ya buddy. You probably won't have a chick nearly as hot Jessica and after the few weeks of media coverage you'll probably won't be heard from again, but good news, I found a place for you to stay since that bitch left you homeless.


Jigga always pulls through.