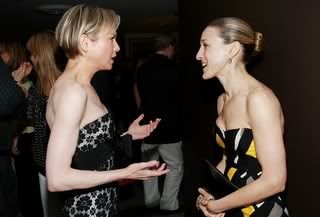 Renee: Of course I knew I would rock in Chicago. I mean, didn't you ever see my performance in Empire Records. I sang on a roof! A roof!! Isn't that the most incredible thing you've ever heard? I also haven't eaten anything since that performance either!

Sarah Jessica: Oh Renee, you played a slut in that movie and you dressed like a whore in Chicago, but the eating thing is incredible! I for one reached my peak on Dance TV. Shout! Breakout!

Tell us what you think they're saying in the comments!