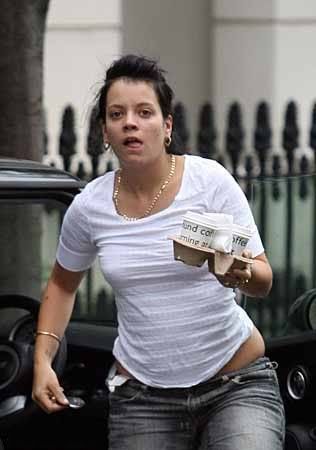 Dang. Lily Allen's not looking too good, y'all. Why don't we try to bring her down some more by finding out if she's a twat or not-a-twat! Hey! I bet she'll write a myspace blog all about it! What fun! For us, anyway. Let's get started! Also, you'll find a pair of safety glasses and some earplugs under your seats. Please feel free to use them. It's blank or not-a-blank!

At first, I kind of liked Lily Allen. I mean, I didn't know that much about her (and I still don't really) but I knew that she liked to drink, and usually that's all it takes to get on my good side. But she seems to have gone from happy drunk to sad bastard, and trust me Lily, no good can come from that. The last time I got all mopey from drinking I woke up in a pool of my own vomit which I then ate for breakfast. I will spare you the details, but let me just say thank god I ate some fries the night before, that way there was still something solid to gnaw on as I attempted to regain consciousness. What I'm trying to say is, Find your happy place again, Lily. Twat

Lily Allen came out with a ridiculously adorable line of dresses and crap this year. Unfortunately for us here in the 'Mericas, this stuff was only released in England. Maybe if I don't call her a twat she'll bring it stateside? Not-A-Twat?

Lily needs to decide if she gives an eff or if she doesn't give an eff. You can't have it both ways, girl. And you certainly cannot document your 'giving an eff' flip-flopping on your myspace blog, as pointed out by The Hater. Twat

Holy crap! Lily Allen and I share the same birthday! No one born on the glorious Second day of May is a twat! Not even you...Brooke Hogan?




Okay...Maybe you, Brooke Hogan. But I'm giving Lily this one. Not-A-Twat

Seems like Lily Allen is always either talking shit about someone, calling people names, dealing drugs, or getting in drunken fights. Wow. Sounds a lot like me. Only I've got one up on you, Lily. I do all of the above simultaneously while head-butting a baby with downs syndrome and blowing second hand smoke in the face of the elderly. That's how we roll in America, Lily. Love it or leave it. Twat

Right now, I'm saying that she's a twat. A cute twat (the picture above notwithstanding), but a twat none the less. She's also a young twat who doesn't seem to realize that while the celebrity world closely resembles high school, it's best not to treat it as such. But if they all acted responsibly, there would be no gossip and I'd be reduced to making fun of ordinary people on the street, which usually ends up in me getting arrested. And no one wants that. So keep on twatting it up, Lily! What do you guys think? Please leave your verdict in the comments, and thanks to reader hothamwater for the suggestion! Got a suggestion, well go ahead and leave that in the comments too!