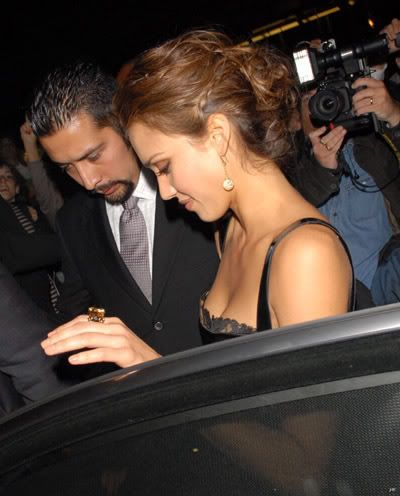 Is her mexi bodyguard aware of this?

Everyone is starting to hate Jessica Alba today because she's been quoted numerous times talking about how much she really hates those job-stealing, taco eating, racist, deformed, all completely insane, mexicans. She was all:


"I've got cousins galore. Mexicans just spread all their seeds. And the women just pop them out."
"My grandfather was the only Mexican at his college, the only Hispanic person at work and the only one at the all-white country club. He tried to forget his Mexican roots, because he never wanted his kids to be made to feel different in America. He and my grandmother didn't speak Spanish to their children. Now, as a third-generation American, I feel as if I have finally cut loose."
"My whole life, when I was growing up, not one race has ever accepted me, … So I never felt connected or attached to any race specifically. I had a very American upbringing, I feel American, and I don't speak Spanish. So, to say that I'm a Latin actress, OK, but it's not fitting; it would be insincere."
Fucking mexicans, thinking that they can come here, get a job that pays more than 5 cents a day, not have to start working at the bright young age of three, attempting to quietly assimilate. Pssh...where do they get off? If I were Jessica Alba, I'd hate myself and my culture too. Then someone would give me a burrito and I'd remember how delicious Mexican cuisine is, and I'd forgive. Then I would finish the burrito and hate Mexicans all over again. I'd have to hire a Mexican bodyguard just like she did, only he'd have to wear the world's largest fanny pack and fill it with burritos just to calm my overwhelming racism and self-loathing. I'd weigh 300 lbs. in less than a week. It would be fantastically delicious!
Source