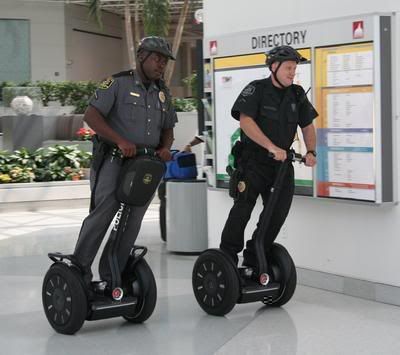 The police are taking it to the streets in New York City ON SEGWAYS. From the New York Times:


"Their obvious advantages are visibility and mobility," Mr. Kelly said. He was referring to the battery-charged agility of a Segway, which can roll up to 12.5 miles per hour, and to the imposing stature the devices tend to give officers, who are eight inches off the ground and ride standing up.
I'm gonna go ahead and assume that this could work out. If I was doing some crime and a police man rolled up behind me on a segway, he'd probably catch me because I would be laughing at how ridiculous he looked while simultaneously judging him for being the type of asshole that rides a segway. I'm sorry to interrupt the gossip, I just really cannot stand the useless contraption that is the segway. Back to the useless contraptions known as celebrities...