Hey Ladies! If you're like me, you've been saddened by the fact that the dudes have monopolized the douchey trucker hat look for quite some time. Popularized by the likes of Ashton Kutcher and frat-boy rapists, trucker hats were THE item to have if you were going to drink a beer and then go punchin' minorities. But what about us sexy ladies? What do we wear when we want to say something so incredibly pointless and ridiculous it can only be summed up by wearing a hat? Well, thanks to a few lady celebrities, our womanly dreams of wearing trucker hats can finally become a reality. As you may have gathered from yesterday's Le Art, Britney Spears sported a trucker hat with a vulgar word on it!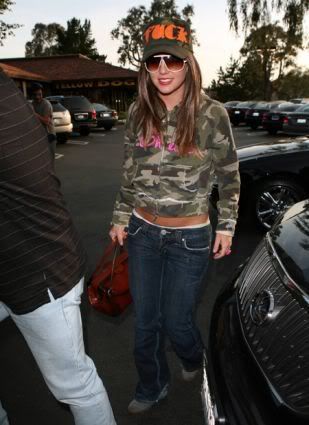 Oh boy! In case you can't read bright orange old english, that hat says *gasp* THE EFF WORD on it! While the context of Britney's hat F-Bomb remains unclear (Is this a "Fuck All Y'all" type of gesture, or a more introspective "I'm fucked" or even a offer to "fuck" her? Who knows, really?) she certainly is making a statement (albeit a douchey one) without saying a word.

Sorry Britney, but I prefer the less confusing trucker hat. Take Fergie Ferg's recent example: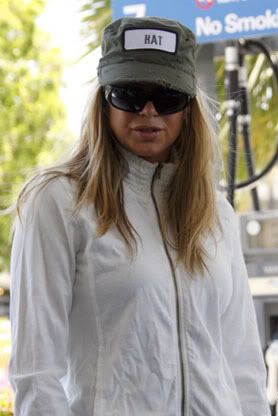 No confusion here! Except maybe for Fergie who I assume has now labeled all of her clothing in the same way to avoid putting this hat on as underwear. This does not go on your vajesus Fergie, and now that it is labeled as a hat, I hope you will never make that mistake again. So thank you, once again, useless female celebrities! Even though we all were glad that is awful fad finally seemed to run its course, I can always count on a few dumbass celebrities to try to bring it back.