Entertainment Tonight hired Dina Lohan to be a special red carpet correspondent for the premiere of Georgia Rule last night. According to Page Six, they thought Dina did such a great job exploiting her daughter the first time around that they'd give her another go at it:


A spokeswoman for the show told Page Six: "Dina Lohan will be a special correspondent for the 'Georgia Rule' premiere. We are looking forward to Dina asking the questions only a mother can."

This isn't the first time Dina has tried to use her daughter's fame to snag an "exclusive." When Lindsay was in rehab, her mom took "ET" on the plane with her and her other daughter, Ali Lohan, to go "visit" Lindsay at the Wonderland facility in L.A.
Nice work, Dina. Lucky for y'all, we at
TGG
have collectively slept with enough people at Entertainment Tonight to bring you the exclusive transcript of the interview. While we are icing our vaginas, why don't you take a look:
Dina
: pssst...Lindsay. HEY! LINDSAY! GETOVA HERE YA RED-HEADED RASCAL!
Lindsay is interviewing with Pat O'Brien who luckily works for The Insider so we didn't have to bone him
Dina
: Lindsay! LIND-SAAAAY! I'm talking to you! Get over here RIGHT NOW!
Lindsay
: What mom, god!
Dina
: It's interview time! WHOOOO! Okay...deep breaths, Dina. This is your moment! Okay! Hi, Dina Lohan here interviewing the beautiful and talented child that slid from my botoxed loins, Lindsay Lohan! Lindsay, first things first, do you want a drink?
Lindsay
: [whispering] Mom...there are cameras here...
Dina
: [removing a flask from under her dress] OH COME ON! Did momma raise a little tight ass? No she didn't. NO SHE DI'INT! HA! Now drink, everyone likes you better when you're wasted anyway...That's better, that's momma's little girl. Now we're ready. So daughter, what's the best thing about being my daughter?
Lindsay
: Oh, I don't know mom! It's either all these delightful freckles that have infested every inch of my body, or the fact that you constantly supply me with drugs, or that you leech on to me like a parasite, draining all hope I have for a normal life.
Dina
: [backhands Lindsay] Don't you speak to me that way!
Lindsay runs away
Dina
: Linds wait! We didn't get the money shot! Come back! COME BAAAACK!
Dina stomps the ground & pees herself while Ali Lohan looks on with an expression of familiar horror on her face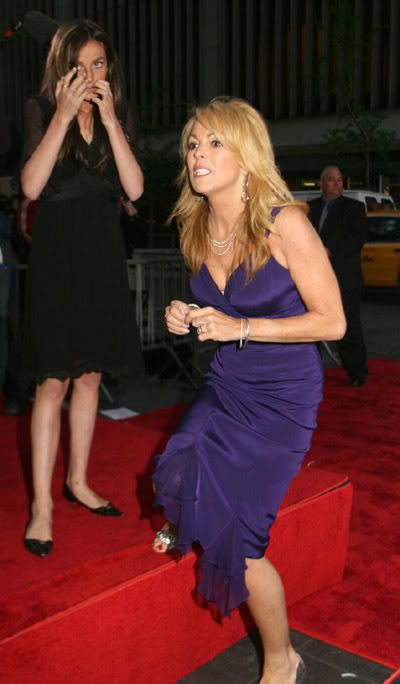 END SCENE