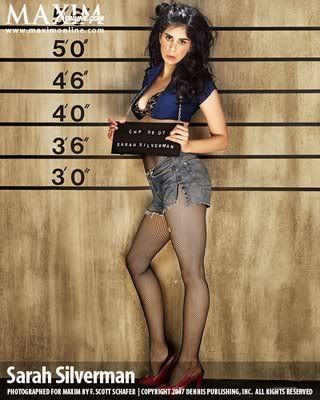 Wow! You like me! You really like me! What's that? You don't like me? You just like Blank or Not-A-Blank? Well I was going to ask you to hop on my shoulders and we could ride off on my segway together into the sunset, but now I'm not so sure. While I'm deciding if any of you deserve such an honor, let's welcome back the triumphant return of the blog's only regular feature! Due to an overwhelming demand (5 people) we've decided to bring this feature back. And it will stay back until the end of time. Even if it begins to blow ass, which it undoubtedly does will, it will never go away, because you guys wanted it back once and my mind only remembers the good times. Like the time I knifed that Indian. Good times. Anyhoo - today we tackle a subject that will make dudes who let their boners laugh for them cringe. Is Sarah Silverman a Twat or Not-A-Twat:

Sarah Silverman just posed for Maxim. Here are the rest of the pictures. If you looked at the rest of the pictures, you are probably one of the people who thinks Sarah Silverman is hot and therefore think she is funny. That seems to be how it works with her. I enjoy the idea behind her humor. Making fun of the less fortunate, minorities, people with AIDS, jews, white people, women - all of these things I also find joy in, she's just not good at it. Yet, she can continue to not be funny because people think she is hot. Twat

Okay, okay...sometimes she's kinda funny? I watched her show. I didn't laugh, but I think I cracked a smile once or twice. I thought her interview with Maxim was kind of cute. I found this:


Why aren't women funny?
They pee it out. Like vitamins you don't need.

You don't shy away from controversial material. Have you ever thought to yourself, I can't say that. It's too mean.
No, because I tend to put my foot in my mouth. As soon as I think I shouldn't do something, I end up doing it. I was at the Improv, and there were some kids who looked like they were about 14. I thought, I shouldn't do this joke if there's a 14-year-old in the audience. But I still ended up talking about coming on someone's face. I felt like I had raped their brains.
to be kind of funny. I'm not 100% sure that being kind-of-funny makes you not-a-twat, but I'll let her have this one.
Not-A-Twat
We are all aware that she is dating
Jimmy Kimmel
right? I think that pretty much establishes her as a twat. Twats of a feather flock together, am I right?
Twat
This twat was on
Mr. Show
, and even though I'm pretty sure that the only reason she was on there was so that
David Cross
could make out with her on camera, that's gotta count for something.
Not-A-Twat
So, I didn't see her movie
Jesus is Magic
because I usually don't go see bad movies (unless they star
Mandy Moore
, or involve cute animals, or sappy love stories, or...i see a lot of bad movies), but I just watched a couple of clips that I found on youtube and realized that this is not the type of bad movie that I enjoy.
Twat
So far, the
twat
's have it. Unfortunately for Sarah, she doesn't seem to realize that as a woman, you are only allowed to be either funny, sexy or a twat. You can't be all of them, but you are required to be pigeonholed into one of the three categories. Look what happens when someone who is actually funny
tries to be sexy
.
Tina Fey
is totally adorable & cute, but her sluttily bending over while touching a typewriter confuses me. And look what happens when a twat
tries to be funny
. Sorry ladies, I don't make the rules. Men do, and who are we to question anything a man does? How ya like me now, readers? Feel free to chime in in the comments! And don't forget to send your suggestions for the next
Blank or Not-A-Blank
to
twogirlsplusgay@gmail.com
!