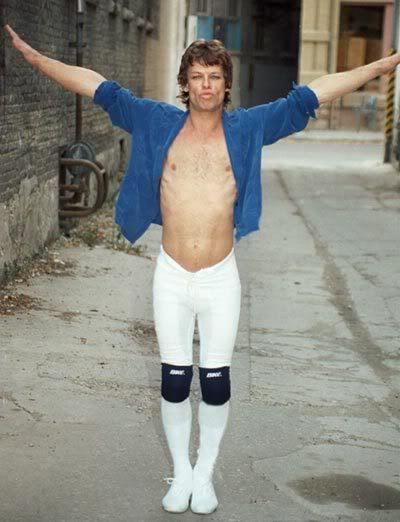 Usually the headlines that accompany the posts on this blog are either attempts at being witty or blatant lies. This one is all truth. Well, if you believe director Julien Temple who just told this story to Radio Four:


Temple – who directed the Rolling Stones's Undercover Of The Night video - told how Jagger covered his private parts with the insects so that they could sting his penis and inflate it.

The technique is an Amazonian marriage ritual.

He said: "It involved putting bamboo over the male member and filling it with stinger bees so the member attained the size of the bamboo.
I can't imagine this would be pleasurable, or yield the results that Jagger desired. A puffed up, swollen wang is not a bigger wang by most standards that the ladies would be interested in.
Mick Jagger
wang talk is considered gossip right now because
Janice Dickinson
recently told some British guy that Jagger had a small wang. Considering that Janice Dickinson most likely has a wang, or at the very least, a clang...I wouldn't let her comments hurt you too much, Mick. Now them bees? I would assume that shit would hurt a lot. I don't have a wang, but now that I have the ability to
pee standing up
, I feel like I can empathize with y'all wang owners. And my advice: Don't let bees sting your wang.
Thanks
Gabby Babble
&
Clark
!