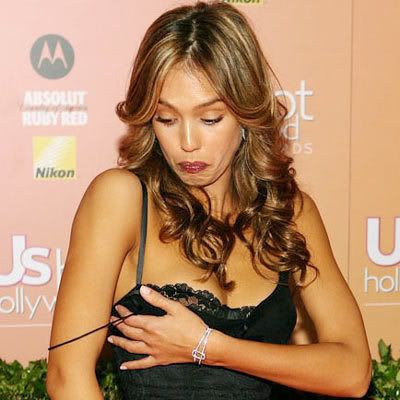 Dang, it's gotta be rough to come in second place on Maxim's top 100 hotttest bitches list. The only thing worse would be coming in second to a coke-whore like Lindsay Lohan! Zing, Jessica Alba! We're bringing you down!!! Let's put the final nail in the coffin by deciding whether or not this rising "star" is an Asshat or Not-An-Asshat! It's Blank or Not-A-Blank!

I'm not gonna lie...I know very little about Jessica Alba. I never watched her Dark Angel show, so all I know is that the dudes want to bone her. Obviously, this makes me hate her for no reason. I can't help it. I'm a woman. Asshat

But wait! I do know something about Jessica Alba! She starred in one of my favorite movies! Obviously, I'm referring to Honey. I'm such a sucker for the "Down-on-their-luck-kids-use-dancing-to-empower-themselves" genre (See also this and this). Not-An-Asshat

Jessica Alba may not only be mildly retarded, but the bitch is wasteful! Just look at the promo poster for her upcoming movie Good Luck Chuck:




Girl! That delicious soft serve is going to waste! If there's one thing I hate more than a tard, it's a wasteful tard. Asshat

According to a gripping interview with Instyle this month, she's also kind of an asshole! She talks about what a spoiled brat she was as a child:


"I love challenging authority. It probably wasn't easy being my parents. The second somebody says 'no' to me is the second I'm going to jump up and say 'yes!"'
I'm in the process of training a
puppy
so I know how to deal with defiant bitches. Jessica, don't make me
dog whisperer
your ass.
Asshat
But then, in the same award winning interview, she also said this:
"Because obviously, if you have a womanly figure, you're not allowed to have a brain or any idea of the world whatsoever. You just have to be hot and use your body to get ahead."
She obviously has a firm understanding of how the world works. Jessica, I may have underestimated you.
Not-An-Asshat
Jessica Alba
likes old peen
. She wants some old, wrinkly peen to snuggle up inside her because "They've been around and know so much". Alright, fair enough I guess. But answer me this, Jessica. When the old peen started coming around, why didn't you hit that shit when it was
made available to you
?:
"But she backed away from religion, she says 'when older men would hit on me, and my youth pastor said it was because I was wearing provocative clothing, when I wasn't. It just made me feel like if I was in any way desirable to the opposite sex that it was my fault, and it made me ashamed of my body and being a woman."
You are one big ball of confusion.
Asshat
Right now, the
Asshats
have it. But, I could have told you that before we even started. I mean, she's a French/Mexi. A Frenchican. No me gusta. What do you think? Let us know, in the comments! And, as always, don't forget to send your suggestions for the next Blank or Not-A-Blank to
twogirlsplusgay@gmail.com