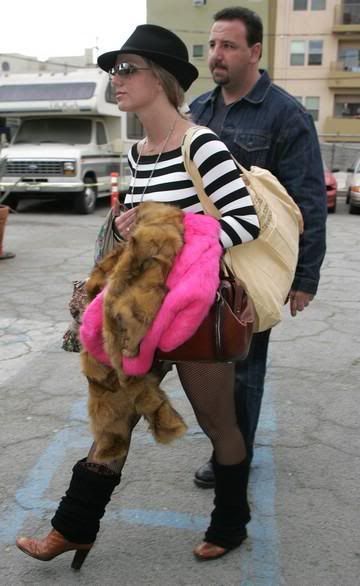 Sweet Jesus. It's official: Britney Spears has been damned from birth. Britney's daddy emailed Page Six regarding the recent firing of her manager, Larry Rudolph. Daddy was all:


"When Larry Rudolph talked Britney into going into rehab, he was doing what her mother, father and team of professionals with over 100 years of experience knew needed to be done. She was out of control. Larry was the one chosen by the team to roll up his sleeves and deliver the message, to help save her life.

The Spears family would like to publicly apologize to Larry for our daughter's statements about him over the past few weeks. Unfortunately, she blames him and her family for where she is at today with her kids and career. Larry has always been there for Britney. For this, we will forever be grateful to him."
It's good to know that Britney's daddy is more concerned with appeasing her recently fired manager over his daughter. Why was Britney's
manager
designated as the one to tell Britney that her ass needed to get in rehab. Why not have...I don't know...HER FRIGGIN PARENTS deliver this news? But just when you start to feel bad for Ms. Spears, she has to release a statement via her
new/old
manager Leslie Sloane Zelnik:
"I am praying for my father. We have never had a good relationship. It's sad that all the men that have been in my life do not know how to accept a real woman's love. I am concentrating on my work and my life right now."
Not the craziest thing she's ever said, but perhaps she's been listening to that old
Alicia Keys
song a little too much these days. Britney, you're sounding like you're about to go gay. Whenever the ladies start damning all the men in their life and talking about "real women", they are mere steps from licking vag. I watch that
Work Out
show, I know how this shit works. But until you finally give in to your desires and start lezzing it up, keep fighting with your family in the public eye, please. I think the celebrity world just started to get interesting again!