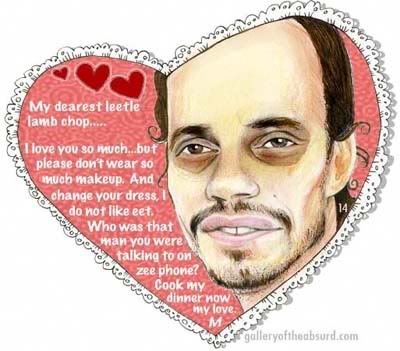 Oh pobrecito Marc Anthony. First, your wifey was on American Idol this week, which I'm sure you did not approve of. Then, you and J. Lo both fought off rumours that there was trouble on the marriage-front:


"Marc is very machismo," the mag quotes a source as saying. "Marc won't let her even do a photo shoot by herself. He is always there watching, waiting. At a Golden Globes party, "Marc [dragged] Jennifer away after spotting her dancing with another man. … He has also insisted that Jennifer sell her beloved Miami home and the Los Angeles house where they wed."
With all that "watching" and "waiting" for your wife to slip up and finally give you a reason to beat her, I'm sure filing your taxes for the past
FIVE YEARS
just slipped your mind! That's right, y'all...Marc Anthony hates America more than we originally thought. According to
People Magazine
:
"Marc Anthony has agreed to pay $2.5 million in back taxes and penalties after failing to file returns for five years, New York prosecutors said Wednesday...Anthony didn't file returns for 2000 through 2004 on $15.5 million in income, according to AP."
Wait...Marc Anthony made $15.5 Million Dollars from 2000-2004????? Doing what, exactly? I know he's popular with los latinos, but Jesu Christo! I never realized that you could trick los latinos into giving you a cool $15 Million simply by resembling
Skeletor
, lurking in the shadows & terrorizing your wife! Oh yeah, and by releasing two
poorly
received
albums. I can do all of that, and if I make a mexi friend, perhaps I can do it in espanol (imagine a squiggly thing over the n, por favor)! I'm coming after your millions, Marc Anthony! And 'Merica, I sure do promise not to keep any of my millions in offshore bank accounts and not to deny its existence when the government comes collecting.