I don't understand the obsession with Scarlett. If you ask me she is super trashy and frankly, even this acts better than her. Were it not for her gigantous boobs no one would give her the time of day. NO ONE. You take away her boobs and her body and she's just like every other skanky piece of trash, probably living in a trailer park giving blow jobs for fake Louis Vuitton purses. Instead, her voluptuousness has allowed her to attend the Louis Vuitton show in Paris looking like this


That's not sexy and it certainly doesn't inspire me to make a movie about her. In fact, I would bet anything that if you took away her body, a jellyfish wouldn't even want to screw her. Just look at her face and think about it a moment. Still not convinced?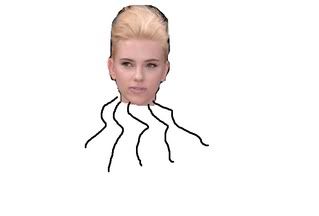 Judge for yourself and let me know if you would still want to do her.