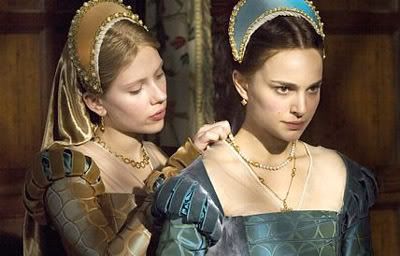 Scarlett Johansson & Natalie Portman are going to be in a movie together. To tame your massive boner upon hearing this dudes, let me tell you that it's a period piece. That didn't do it? It's literally a period piece. For two hours they talk about their periods. Ok, that's a lie, but I'm sure it deflated any e-bone you had quite nicely. Scarlett Johansson is also in the April 2007 issue of Vogue in which, she and Natalie Portman gush about what great actresses they both are:


"I first became involved because Natalie was doing it," Johansson said. She and Portman had never worked together before, and Johansson said that even before reading the novel or script, she leaped at the chance to make a film with the young actress whom she admired. "She's a wonderful actor, just a great scene partner," Johansson said. "I guess I had never really worked with a young woman my age. She's so professional. And she's not pretentious or anything, just a really nice girl. It also helped that she's from New York."
Natalie returns the gesture by being all:
Portman was just as impressed by Johansson. "The thing about her is she's an amazing actress. You look at her and instantly believe you are in the place you are; she makes it immediately real," Portman said. "She's so supportive and giving and passionate about her work," she added. "She's really direct about everything she wants or feels, whereas I am a little more timid."
Is the place that she makes you believe you are in called HELL? Because that's how I feel when I watch either of these two admittedly hot ho's try to act. Jo-Ho was good in
Lost in Translation
because she barely spoke, and Portman was good in
Beautiful Girls
because she was too young to realize what she was doing. Other than that, these two are just girls that get the dudes peen blood a'flowing. Which is fine. There's really nothing wrong with being a hot ho - just quit pretending that you're good at something.