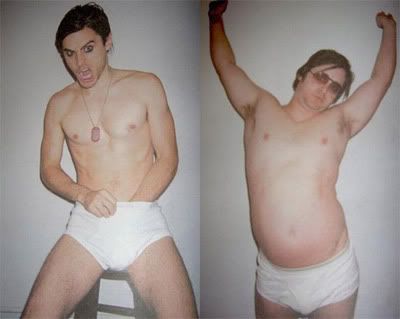 I'm sure many of you are probably thinking, "WHAAA? JARED LETO? Obviously he is a DOUCHE!" But maybe some people don't think that, I don't know. Isn't that what we do this for? So, for once and for all - let us decide if Jared Leto is really the douchebag that we all know he is.

Let's just get this out of the way: Jared Leto played Jordan Catalano and while that doesn't mean that he was Jordan Catalano, it still gets him a lone vote of Not-A-Douche

Jared Leto is in a unbelievably terrible band called "30 Seconds to Shit", and even his fans won't catch his douchey ass when he attempts to stage dive. Douche

Jared Leto wants to take a baseball bat and smash your face in if you don't like his band. While I can respect his rage, I can't respect his band. Douche

There is an entire series of fat vs. skinny Leto pictures like the one pictured above, promoting the movie that allowed him to give his herp to Lindsay Lohan. One critic reviewed Chapter 27 by saying "It's like a feature-length version of De Niro's 'You talkin' to me' speech from Taxi Driver -- only without Scorsese, Schrader or De Niro." Regardless of how bad the movie is, I like these pictures because it makes Leto look like that creepy guy on the sex offender list that lives in my neighborhood. I also like this picture of a fat Leto doing a jig: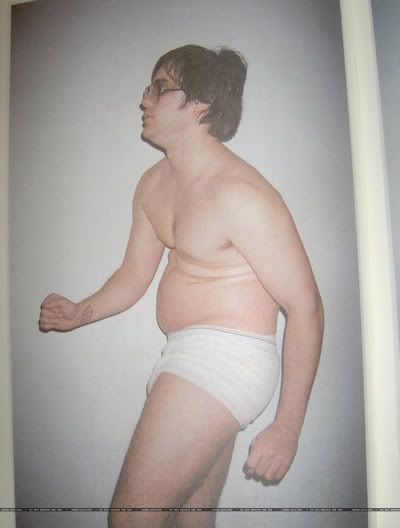 But not even that delightful jig can save Leto. Douche

I really think Jared Leto might be at least mildly retarded. He is always having unprovoked, life-threatening outbursts targeting anyone that is within arms reach at the time(including bloggers, what a douche). Besides us bloggers, no one seems to notice or care. It's like when the kid with tourettes starts screaming nonsense, and his mom just taps him on his head and gives everyone that "So Sorry...he doesn't know what he's saying" look. My argument for Leto's mental state is also strenghtened by this: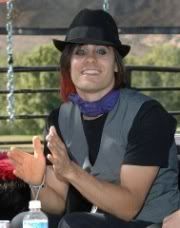 But, until it is confirmed by a doctor that there is something mentally wrong with him, he's still a DOUCHE (who am I kidding, I'll probably still make fun of him even if that was true)

I'm really doing this just to see if there is anything that can redeem this DOUCHE. Is there anyone in this world who thinks he's Not-A-Douche? If you like "30 Seconds to Mars", your opinions are not wanted here. Make your arguments for or for Leto's doucherry...in the comments!!!