Last night, I had the pleasure of catching one of the greatest movies of all time on Encore. Obviously, I'm talking about the 1996 film, 'Fear' starring Reese Witherspoon & Mark Wahlberg. The only thing I remember about this movie from watching it as a wee-Girl #1 was that Marky Mark gave the girl (Reese) a fangle on the rollercoaster. And yes, that scene still kinda ruled. Now that this fine piece of cinema is fresh on my mind, it seems like all roads in the gossip realm today lead to 'Fear'. For example, whens the last time we saw Alyssa Milano? Probably when she played Reese's slutty friend in 'Fear'. Well, today we see Alyssa is still keeping it slutty, as her and her boobs go for a walk: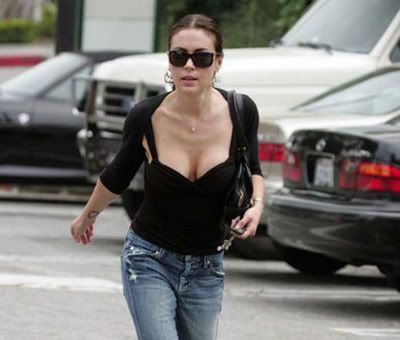 As for Reese, I think we all know that she dropped 30 lbs, had some kids, divorced her husband and most recently shot the cover of Harper's Bazaar. Mark Wahlberg is still unbelievably hot, and I would let him fangle me any day. In case you haven't seen 'Fear', now would be a good time for you to take a look at the best scenes from the movie, set to the sweet sounds of Morrissey.



While the creator of this video did an excellent job of syncing up the characters lines with Morrissey's brilliant "Let me inaaaaahhahaaaa", it sadly left out one of my favorite parts of the movie - the part when Marky slices "Nicole 4 Eva" into his chest and rubs ink into it to magically create a tattoo. Perhaps Modest Mouse frontman Isaac Brock caught the same repeat as I did, because at a show in South Dakota, he whipped out a knife and carved away at his chest. You know what, Brock, you are no Marky Mark, and getting all emo at your show isn't going to make your fans forget about this. See y'alls. 'Fear' is everywhere! I highly suggest that you get that shit on your Netflix queue pronto. It's taking over the world!