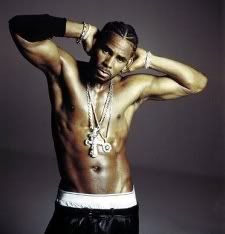 I love R. Kelly. I really do. He can do no wrong in my eyes. Yes, before you ask, I even love Gotham City. So, I'm obviously really excited for his new album that is coming out in May. Even though I don't really believe that they like or care about R. Kelly, Pitchfork has lead me to the "Chocolate Factory" (not to be confused with the Chocolate City of New Orleans), a phone number that you can call to hear snippets of tracks from the upcoming R. Kelly album entitled Double Up. You can also try to decipher what the hell R. Kelly is talking about when he says things like:


"Put some money on it, what can I say? Y'ALL DON'T BELIEVE? Put some money on it."
Or you can get deep with Kelly as he tries to bridge the gap between R&B and Hip Hop. I recommend that you call
(312) 278-3965
right now and make your way into the Chocolate Factory. You'll hear some sweet jams, and you can just hold up your finger and point to the phone if anyone in your office tries to bother you for the next 6 minutes.
Thanks
Josh
!