Hello Nip-Slip Google Image Searchers!
My name's Tiny and I'm part of the new blogger exchange program. Normally I write for a blog called The Silver Bullet where we talk about sports and make fun of other races. Now I know what your saying, "what does this have to do with Tara Reid walking her dog/Beyonce's black eye/you're not gay!", but last night the lady-friend made me watch the homo-off called Dancing With the Stars. Now, while I do spend an inordinate amount of time watching sports, I'm no sports-nazi -- more a grooming nazi:

I watch the Project Runway and the Hills and all other sorts of unabashed girl crap and actually enjoy it, but watching Cliffy from Cheers learn to dance? I'd rather watch painful wooden-man Michael Jordan stumble through old Saturday Night Live clips.


Who cares about Dancing With the Stars? Well, ABC seems to think this show is almost as important as Ugly Betty. Dancers featured on the show include midget ice-skating sensation Apollo Ono (a google image search for Apollo Ono only comes up with 2 pages of results, but you already knew that) former 90210 star and now desperate man Ian Ziering, Muhammed Ali's daughter/boxer/lesbian Laila Ali, Paul McCartney's estranged cripple wife Heather Mills, Miss USA 2004 Shandi Finnessey (not the druggy that got Rosie and Trump all huffy, some other one) and 6'7 basketball hall of famer Clyde "The Glide" Drexler.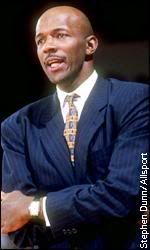 All of these people are famous because of someone they associated with or something they did long ago that they will never do again. Apollo Ono is, what, 15 now so he'll never again be a dominant speed-skater. Ian Ziering should really try and get a data-entry job somewhere if the DVDs aren't bringing in enough money. Laila Ali would only be famous among female comedians and indoor rock climbing enthusiasts if not for her father. Shandi Finnessey (what the hell kind of name is is Shandi Finnessey? Is she an Irish call-girl?) is only getting older and uglier. Heather Mills is famous for having one leg, bravely speaking up against land mines (somehow these 2 things are not related) and divorcing a Beatle. The only one who I have any respect for is Clyde Drexler.

(WARNING: This video contains sports/rapping)
Clyde Drexler is an endlessly classy guy which, believe me, is a rare thing in the NBA. He's one of the few stars the Pistons have met in the finals who I haven't developed an irrational hatred for (his sports team is from a different city than mine) and he's one of the few who piggy-backed on to a better team in the hopes of retiring a champion who I actually thought deserved it. How classy is Clyde? The lady-friend has had a crush on goateed Apollo Ono since middle school but now he's K-Fed compared to The Glide. So if somebody makes you watch the show, check him out.
Thanks for the soapbox, Girl #1. Now back to more US Weekly coverage...