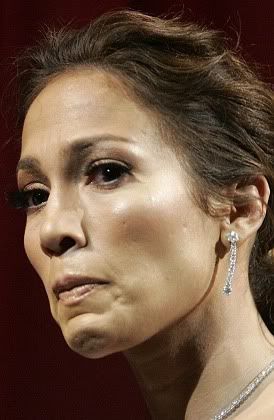 Oh sweet jesus, an unflattering image of the la godessa Lopez. This was her actual face when her new movie "Border Town" premiered at the berlin Film Festival. She has exploited her latina sistas for monetary gain and ain't nobody too happy.
This is probably gonna be another Gigli. La Lopez should have known the outcome would be the same. Her love is soooo real, its funny, apparently.

The Berliner Zeitung says the film is "funny, but unintentionally" reporting that viewers at the press screening had reacted with "frenetic laughter" at supposedly serious scenes. However the film is also "pretty distasteful" at the same time: the critic accuses J-Lo of exploiting the real suffering of the Mexican women in order to become a star in the Central American market. "It's no coincidence that the film is coming out at the same time as her new record, the first where she sings entirely in Spanish," the paper writes.