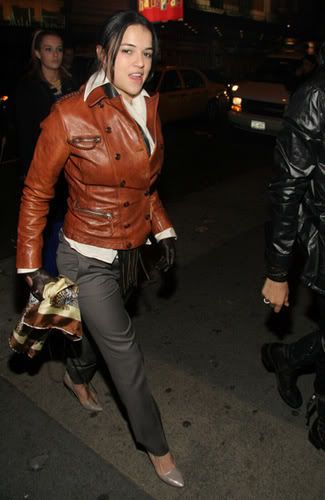 Michelle Rodriguez had some interesting thoughts on charity:


"Man, I got so many hours of community service," says the actress, whose alcohol-intake-monitoring bracelet turned heads at the Marc Jacobs show last week. Rodriguez pleaded no contest to a hit-and-run, DUI, and driving with a suspended license in 2004, and then violated probation with a DUI bust in Hawaii the next year. "I'm almost done. I have to keep flying back. I just take a week and knock it out. It's all good." Rodriguez says she plans to continue to serve worthy causes even after it's no longer legally mandated, having picked up a passion for animal rights after seeing some up close to her Hummer during an African safari. She's currently the spokesperson for a nature-sanctuary foundation called Sanctuary. "Eventually," she says, "you're going to see me do some Jane Fonda–type shit. I'm keeping it hush right now. But it's going to be fucking hot. I'm going to make giving back sexy and fuckable."
Okay...I'm starting to love this crazy bitch.
Finally, though...Charity will become fuckable! I've been handing out soup to the homeless for YEARS and not one homeless man has offered to have sex with me. Please call me, Michelle Rodriguez, when you achieve this lofty and ambitious goal. I will then literally take my sexy-charity-loving-ass to the streets.
And, for no other reason than it being a slow news day, here is a video from Hall and Oates. Sit back, relax, and try to remember a time when popular music ruled as much as this:
Source