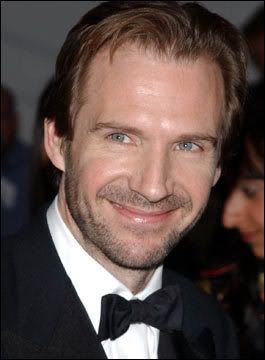 I know this may be old news to you weekend gossip hounds, but did you hear about Ralph Fiennes boning a stewardess in an airplane bathroom? Apparently a 38-year-old stewardess was suspended from her job after her co-workers saw her leaving the bathroom right after Finnes during a flight from Australia to India. The stewardess has said:


"While conversing with Mr Fiennes during my break, I expressed a need to go to the toilet. I went to the nearby toilet and entered it, he followed me and entered the same toilet. I explained to him that this was inappropriate and asked him to leave. Mr Fiennes became amorous towards me and, after a short period of time, I convinced him to leave the toilet, which he did. I left the toilet a short time later."
What is wrong with this bitch? If I boned Ralph Fiennes in the bathroom, and my work asked me if it was true I would say "Hell yes it is true! I boned the hell out of him in the bathroom, and I'd do it again if the opprotunity presented itself. If that is a crime, fire me now...because, if I didn't make myself clear the first time, I would definitely, without a doubt, bone him again." Yep, that's pretty much what my official statement would be.
Source