AND CELINE WAS THERE!!!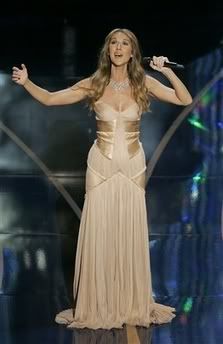 Holy shit...the Oscars were looooo-o-o-ong last night. Thankfully I had a friend who pulled me through it. I know they are always long, but damn. All in all, I enjoyed the broadcast, even if I wanted Ellen to just stop with the jokes and crank through the last awards. I did not like the tech awards at the beginning, I think you need something big right away to get you excited about the show, so I hope they go back to giving away the Supporting Actor/Actress awards right away next year. I was happy that these two looked like crap: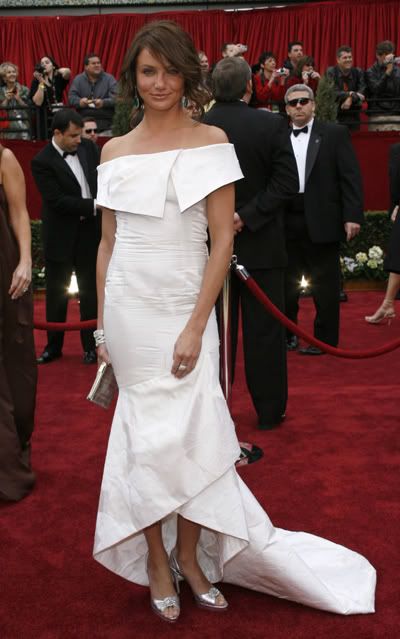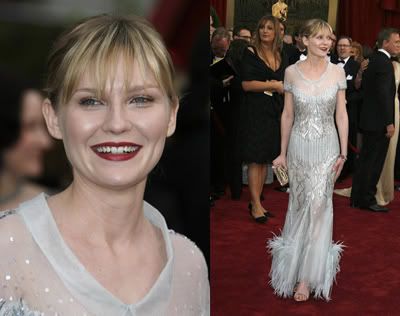 And while it doesn't matter what Elisabeth Shue was wearing, or why she was there...it must be noted that she had to be the absolute worst dressed of the night: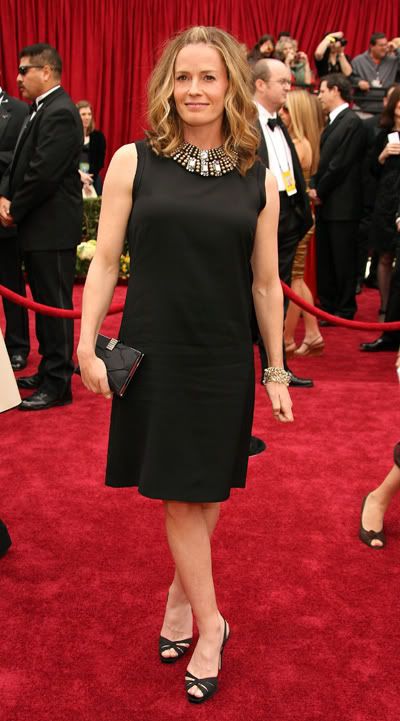 Let's move on to the disappointments on the red carpet. Jennifer Hudson. Why did you wear that cropped jacket over your dress? It made me so sad. Yes, it made me sad - are you judging me for feeling an emotion over what a celebrity was wearing on the red carpet? Ok fine, I would judge me too, but it still made me sad: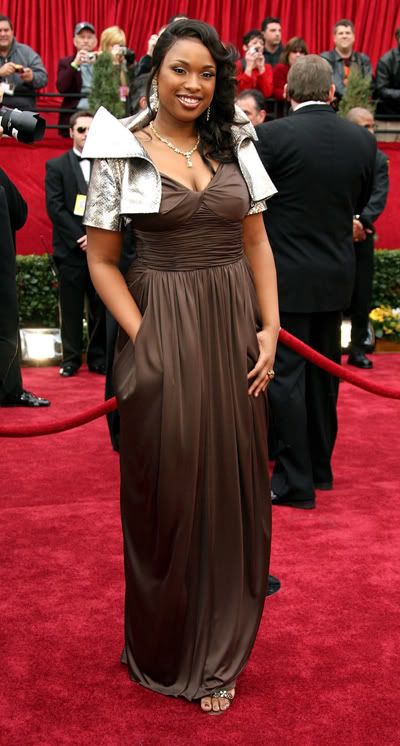 And Jessica Biel looked like she was going out to an 80s party with her magenta dress and patent leather black belt. She should have just worn hot pants, it's what everyone wanted anyway: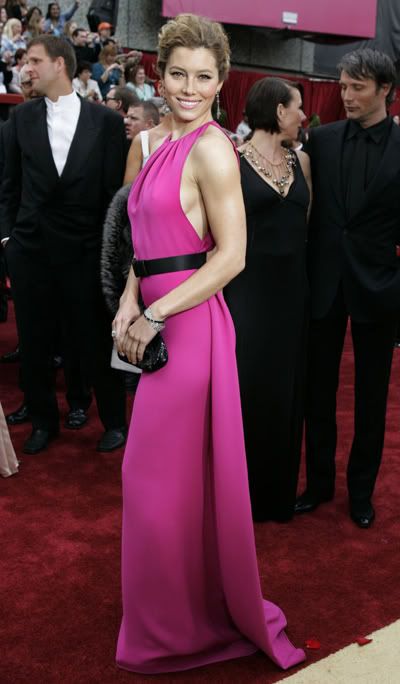 Last night was truly an emotional roller coaster for me. I wavered between happy, sad, terrified and tired pretty much all night. What terrified me, you ask?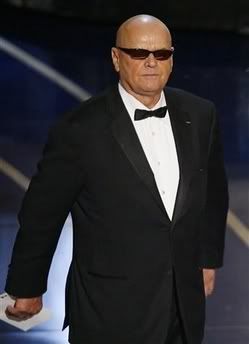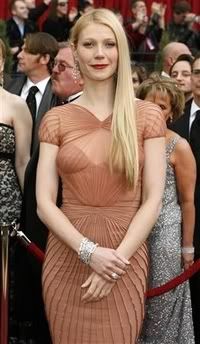 But the Oscar's weren't all bad last night! Sure, we had to sit through a bunch of this: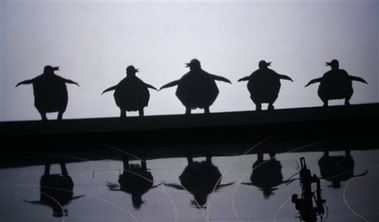 But then we got this!





We got to see first hand how much of a fatty Al Gore really is: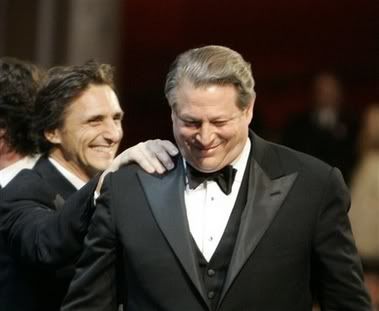 I got one big she-bone when I saw this: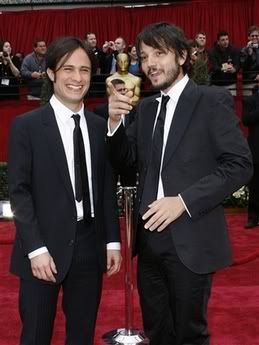 And there it goes again.

Last night gave us some big winners, like Scorsese, who I wish was my grandpa, partially because of how adorable he is, but mostly because I would be rich.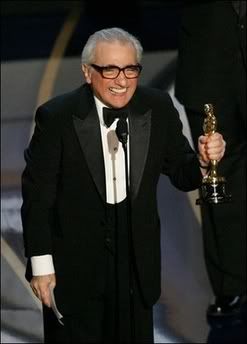 And I thought that last night was going to be another groundbreaking year for black people, and it started to look that way when Jennifer Hudson and Forrest Whitaker both took home their trophies: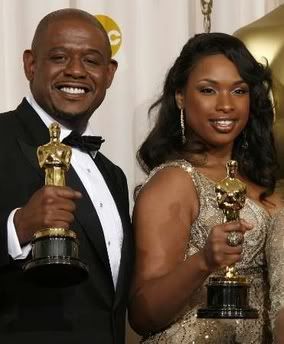 But then Will Smith's son came on stage, and took one giant step backward for black people everywhere by proving that he couldn't read: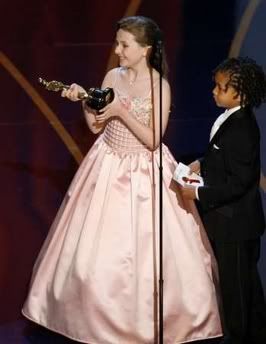 Ok, I'm kidding. He was adorable. And I liked how they were blackin' up the Oscars this year, but in true form, there were plenty of montages to remind white people and American's everywhere that we are still in charge. For example, my favorite montage (out of the billion montages they had last night) was the "Don't worry, despite having such an international show, AMERICA IS STILL #1 - We got the best movies ever, fuckers! TAKE A LOOK!" - Which was quite possibly the most pointless of all the montages, and enraged me because it started at 11:40pm, and I just wanted the shit to be done with at that point.

Other favorite moments of the night include: Beyonce's attempts to murder Jennifer Hudson wit her eyez - first, through tear filled eyes when J. Hud won. Then again when they were singing against each other. I wish they would have fought. I did not like having to see Tom Cruise, or any other Scientologists for that matter. I was pleased that not only did Randy Newman not win, but I didn't have to hear him sing either! Watching how old and confused Clint Eastwood seemed last night was like watching the death reel before someone is actually dead. Someone should have slipped him his meds before he got onstage, he was a mess. Speaking of mess, did anyone else see Philip Seymour Hoffman's hair? My god, it was frightful: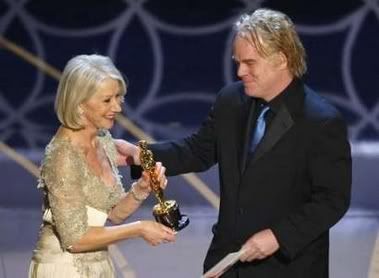 All in all, I thought the Oscars were ok. A little long, and a little boring - but OK! Not the worst thing ever! The Oscars could be nothing but celebrities armpit farting into a microphone and I would still love them, maybe more even. That sounds pretty sweet, actually. But, if I can't have that, I'll settle for this:




Your thoughts??? Need MORE Oscar crap? Go here, here, and here!

And, FINE. The Gay beat me in the Oscar pool...but you know what...I TAKE RISKS! OH well, you can't win them all. Congrats to The Gay!