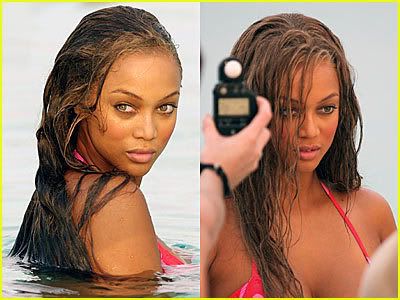 Sweet Jesus. Tyra Banks truly confuses the shit out of me. Can we please do a quick re-cap of the last couple years?

May 2005 - Tyra retires from modeling by walking the Victoria's Secret fashion show one last time.

Sept. 2005 - Tyra gets her own talk show, remains in the public eye thanks to this, and ANTM.

Sept. 2005-Dec. 2006 - Tyra eats a whole hell of a lot of food. She's eating chicken, beef, dolphin (especially after getting over her fear of dolphins on her talk show), everything. Bitch is EATING.

Sometime in late 2006 - Pictures are released of Tyra looking a little rough around the edges, bloggers start calling Tyra a fatty.

Jan. 2007 - Tyra blantantly denies she is fat, shoots the cover of People, has a show about how she's not fat, but if she was fat, she'd be cool with that.

Ok...I think that brings us up to speed. Well now, Tyra is still trying to prove how good she looks by commerating her Sports Illustrated cover that she did 10 years ago, by doing it again and in the same bathing suit, no less. Here's what she had to say about it:


"I was about 140 pounds on that cover … and I'm 161 now. I'd say I looked like a stripper when I put it on. They covered the sides of my chest so that it wasn't so much hangin' out. And they put some extenders on the sides of the bikini bottom so it fit. I think there's more power in embracing what I am now and showcasing that. I'm thinking that I should probably do this every 10 years. So, in 2017 maybe I'll get in the swimsuit again and I'll have to get them to add a little more fabric."
So, let me get this straight. You're not fat, and you are proud of how you look, but you are having everything tucked in and stuck away, and this isn't even mentioning all the photoshopping that will be done to the final product. And how is she showcasing what she is now, if she is taping and tucking away all that she is now? I would much rather see stripper Tyra. And where did the Tyra from a week ago go? The one that brought a life-sized cut out of herself on her talk show and rambled and cried about how this was "just a bad picture"!!! That Tyra has been eaten by SI Tyra, and SI Tyra wants a good picture, y'all!
Basically, Tyra was tired of modeling and wanted to eat...so she did, and then people started judging her, and now she's back to modeling and being ashamed of her body. It's hard out there for a model, y'all. Tyra, just let it go girl...become the 400 lb. fatty you really want to be!
Source