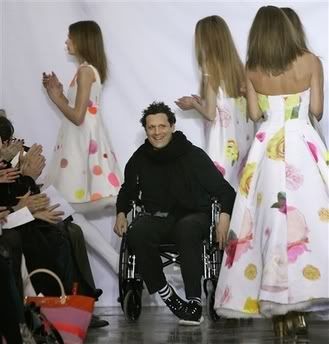 If you think that ultra-annoying designer Isaac Mizrahi is gonna let a little thing like being confined to a wheelchair after being in a car accident stop him from rolling down the runway, think again. I can only hope that he screamed, "Thank you all dear friends...FOR COMING TO MY FASHION SHOW!", Paul Reubens in 30 Rock style. Don't know what the H I'm talking about? You should really be watching 30 Rock, but check out the clip here.

And, Isaac, when this world runs out of ridiculously annoying fashion designers, we won't still have each other...Ah, Starship.



Wait a second...Kim Cattrall is the Mannequin in the movie Mannequin? My love for Starship teaches me something new everyday!