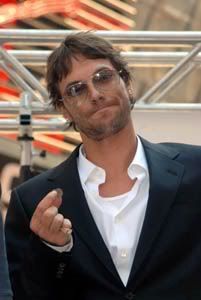 Now that the lukewarm excitement of the Oscars is over, we are back to Britney drama. The cover of the latest US Weekly boasts to have "Kevin's Side of the Story" regarding all the drama surrounding him, the ex, and the babes. In the story, a source "close to Kevin" tells of how Kevin had to put his life on hold to raise the babies. Oh, and he cries all the time because of it.


A source close to the former back-up dancer says he's currently put his life on hold while he works overtime to care for his two sons (Sean Preston, 17 months, and 5-month-old Jayden James) and bring his family back together.

"He's devastated and cries all the time," a source close to Federline, 28, tells Us. "Kevin wants to get back together with her. He is her biggest supporter."
I'm sorry Kevin Federline has to put his career of becoming a forgettable C-List celebrity on hold to raise two of his who-knows-how-many kids. Say what you will about Britney's crazy ass, but where was Kevin when she was having a breakdown and dropping babies (out of her vag, and literally dropping her children on the ground) left and right? Don't believe US weekly's lies about this douchebag. Just because he didn't shave his head, doesn't mean that he's not equally (if not more-so) as fucked up as Britney. Someone please get these kids to the
murdering stubs for hands
nanny that I've created in my head. Also, if you are bored today, feel free to show me your MS Paint skills by creating an artist's rendition of what you think this "nanny with murdering stubs for hands" would actually look like.