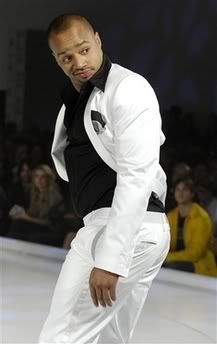 Here is Turk from "Scrubs", aka Donald Faison, at the GM Ten Fashion show. You can go here if you want to see a bunch of pictures from the fashion show including Jennifer Hudson, Ashton & Demi, and stars from "Grey's Anatomy" and "Heroes" working the red carpet.

Or, if you want to see something totally amazing, you can go here. This website called "The Todd Time" was launched after last week's episode of "Scrubs", after Todd was seen wearing a T-Shirt that said thetoddtime.com. When Turk asked him what it was all about, The Todd said "You'll thank me later". Boy, was he right. In case the site takes a while to load, here is the video. Beware, it is slightly NSFW - and you might want to turn your speakers down a bit:



If you aren't watching "Scrubs", maybe now you will.