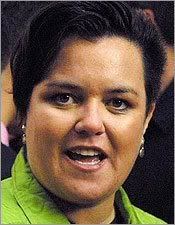 Here's a question for all the lady gays...do all lesbians write shitty prose, or is it just the pseduo-famous ones? First, during the whole Trump V. O'Donnell feud, we were introduced to her "style" of writing. Here is an example of how O'Donnell rolls:


u ok mama
yes i said
embarrassed
a little ashamed

she took my hand
it's ok 2 b big

quoting her favorite todd parr book

life
the search for clean water in a swamp
journey on
stranger/friends
Jesus Christ. For more from O'Donnell, you can
check out her blog
.
And now, Tammy Lynn Michaels (Who? Oh yeah, Melissa Etheridge's partner.) released a shitty prose statement regarding the Isaiah Washington scandal. She's sticking up for the actor, shittily prosing:
he is not a bad man ...
i forgive his words,
because truth be told
i do not believe
the word
faggot
lives in his heart
i don't understand
why you
semi-
famous
lesbians choose to write
like this
i barely
consider myself a writer
and don't
like
to
use punctuation,
or follow any
of the standard
rules of the
english
language
but writing like this
does not make
your words
have
a deeper meaning
or make you seem smart
it only
makes you seem like an
asshole
and when i read it
in my head
i have to
keep
stopping
at the end
of each
shitty line
and that
enrages me.
Source