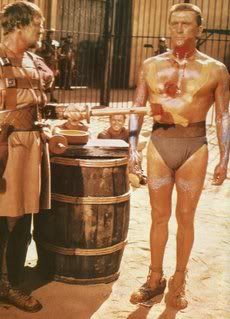 Gays, you may recognize that picture above. That is, if you are the type of gay who watches Spartacus. If not, that is Kirk Douglas, and he is now 90 years old.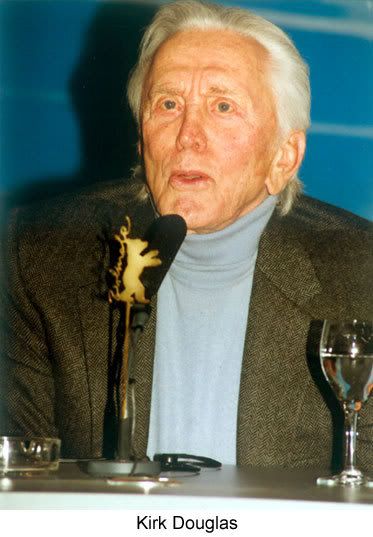 Yep. And this 90 year old just wrote his memoir that details his kinky sex life. YYEEEUUBLLAAHEEEBB. I'm sorry. That was my attempt to type the sound of me shuddering, overcome with a creepy, disgusting feeling upon thinking of this 90 year old dude talking about boning. Page Six made the rather unfortunate choice to run this as their top story today. In which, Douglas recounts his experiences with many a-bitch.


"[Douglas] recalls a fling with a "big, tall blond" German airline stewardess who liked to be disciplined in bed. During their enthusiastic sex sessions, "she would scream, 'I'm a Nazi!' - which was his cue to slap her, which he did, Douglas writes."
He goes on to tell about how his teacher took his precious man-flower, and he got to bone a "beautiful young redhead" by writing her shitty poetry, a trick that I'm pretty sure is still working today, judging only by the fact that a guy can give me a bazooka joe comic and tell me it's a poem, and I'll grant him entry...but this isn't about me. This is about old Douglas and his sexcapades.
Douglas would do anything for love, but according to the memoir, he wouldn't do that. And
that
is finally defined as taking a ho up on her offer for a free place to stay in exchange for some boning. I would like to also make the declaration that Douglas is a dirty liar. He continues to go on and on about doing it in his book, "Let's Face It - 90 Years of Living, Loving and Learning", that will be out on March 23, 2007. So sorry lovebirds, you won't be able to give it as a gift to your special someone on Valentine's Day this year. May I make a suggestion? Wait for the audiobook, and listen to it together as a couple. Nothing screams "Let's get it on!" like a 90 year old gently cooing the tales of his sex romps over the sweet sounds of oxygen tanks and med breaks.