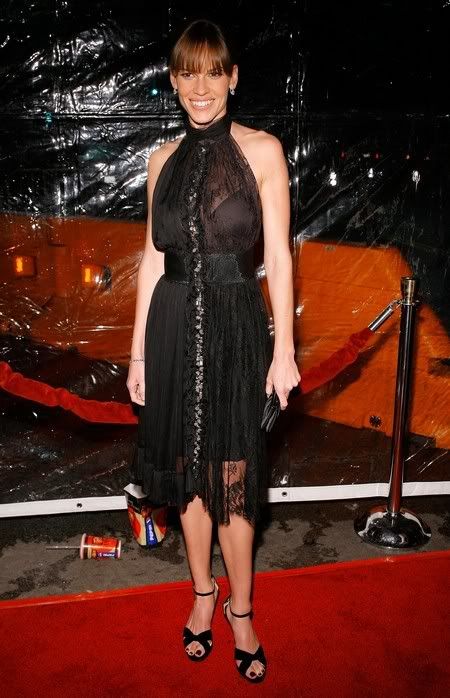 Here is Hilary Swank at the premire of Freedom Writers Dangerous Minds 2: The Reckoning. We all know that Hilary Swank is kind of gross, but let's look closely at this picture. You can see that Hilary is wearing a 48-hour bra under her see-through dress. She clearly knows how to bring sexy back.

What is with all the crap all over the red carpet? There's a popcorn bag and empty soda cup behind her on the ground, and the background is all covered in plastic like some cheap porn shoot. Was this their attempt to make this stupid movie seem even more "street"?

Yeah, our red carpet has shit all over the place...'CAUSE THAT'S HOW IT IS IN THE HOOD, G! Hilary learned that shit while filming this movie, we's just keepin' it real!

Oh, Ok...That makes sense, here I thought you were either too lazy to clean up before the stars walked the red carpet, or you were merely trying to reflect what a piece of garbage this movie will be by filling your red carpet with trash...but yeah, that works too.