John Mayer and Jessica Simpson hung out together. They, like, went to dinner and shit. All that. First, let me say that this relationship totally makes sense to me. They both are dumbasses, so I can see how this is working out. Second, let me say that this story would mean nothing to me, except for the fact that Jessica Simpson flashed a little side boob: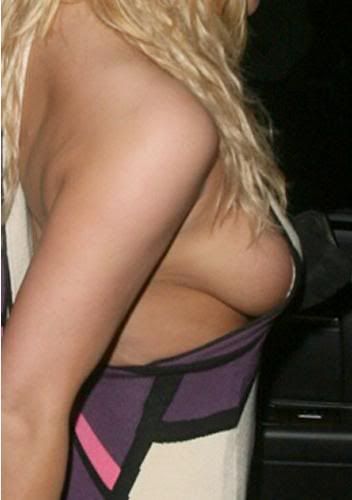 Ah, the side boob. Flattering, not so much. Hilarious...INDEED! Really though, I'm just jealous that I will never get to experience that which is flashing a little side boob, for my boobs are just too small. SIGH. There's no side boob for us modestly sized women, there's only the complete flash of boob. If I were wearing this dress, you would see nothing but titty, as my boobs aren't big enough to hold back the fabric. And I don't want to hear a thing from you big boobed ladies, complaining about your magnificent big boobs. Everything you say is a lie, and we both know it. The side boob is just one of the many, many reasons why big boobs are superior.

Also, seeing boob written in this post so many times really goes to show what a great word BOOB is. Try to use it as many times as you can today!