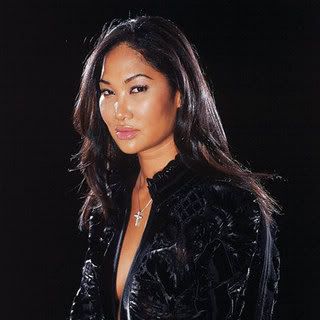 Miss me with that foolishness, is what Blasian and Yakuza member Kimora Lee Simmons was screaming at Alicia Keys' b'day. Moments after peeps such as Clive Davis and Miss-Elliot finished giving Alicia Keys her birthday beating song, you could hear Kimora screaming, "Get up on out my face bitch!".
Guests wheeled around to find the designing wife of rap mogul Russell Simmons yelling at a woman in jeans and a tan vest. "Kimora said that the woman had thrown a drink at her," says one attendee. "She didn't look wet to me. But security grabbed the girl and ushered her out."

Asked by another guest what the fight was about, the woman said, "She's jealous of me!"

The woman couldn't be reached yesterday. Kimora's rep described her as "a disrespectful fan" who "accosted" Simmons. One source added, "Kimora doesn't even know this person, but [the woman] constantly shows up at events where Kimora is expected. Frankly, it's a little scary. Kimora is looking into getting a restraining order."
Source