#5) Brad and Angelina, fresh of the H-Train, onto the red carpet!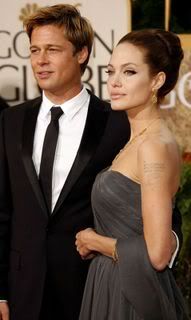 Guys...these two are cracked out. Forget about Britney Spears...can I get an intervention on these two? I know not everyone agrees, but I have been a fan of these two, which is why it was so sad to see them like this last night. Angelina pretty much looks like skeletor. She's always been real thin, but look at her arms! Everytime Ryan Seacrest tried to talk to her, she was all dazed and off in her own world. And Brad Pitt's lookin' like trash too. How delightfully tragic. Please don't shoot up in front of the kids.

#4) Beyonce gets her only award of the night, the Access Hollywood "Best Dressed" Award.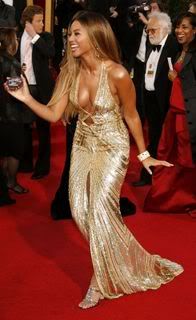 To the left, to the left...No, seriously Beyonce. Keep it movin' to the left, real actors are making their way down the red carpet. But first, let us give you this LIE of an award. It's the best dressed award!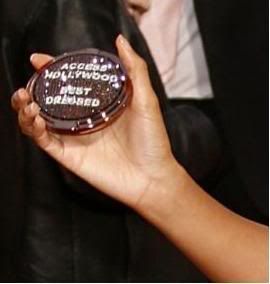 Beyonce: Jennifer Hudson, look what I got! Best Dressed!

Jennifer Hudson: Aw, that's cute! Look what I got! A Best Supporting Actress Golden Globe!

Beyonce: Fat Bitch!

Jennifer Hudson: At least my award doesn't look like a buzzer from Applebee's. Beyonce, your table is ready...To the left, to the left.

#3) Tired-ass bitches.

Here is how not to get back at your now ex-boyfriend on the red carpet: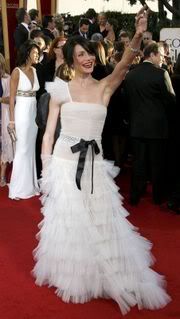 "Nice and Easy" is not the best choice of haircolor if you are going to be on the red carpet. And frills...coffee filters...i don't know what the hell is going on with that dress, but it does not make you look younger, and I know that is what you were going for, Cameron.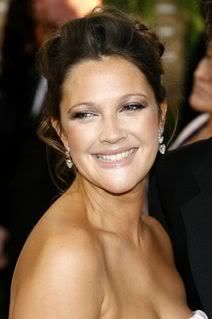 Spray-on tan...also does not make you look younger.

How do you make your ex jealous on the red carpet? Take a lesson from Reese Witherspoon: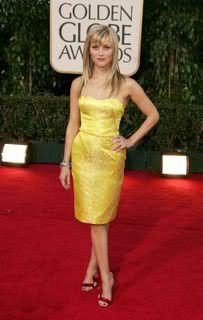 In every picture, her face is saying "That's right, Phillipe. You will never be hittin' this ever AGAIN!" And her hair looks amazing, the red strappy sandals with the yellow dress! Love it!

#2) I CAN'T SEE!!!!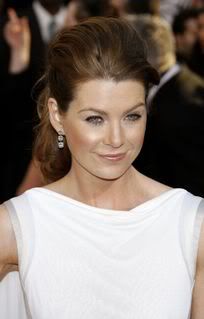 SO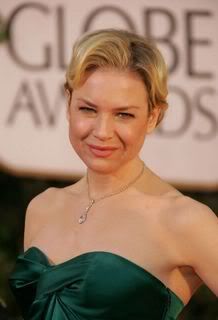 MUCH


SQUINT!!!

Open your eyes, bitches! The font can't even fit between the pictures, there is so much damn squinting going on!

#1) Yes and no's

YES!!! So cute!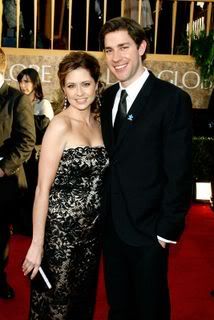 NO!!! -- I mean, obviously she looks great, but I'm sick of this old hollywood look on her already. Don't play it out, bitch.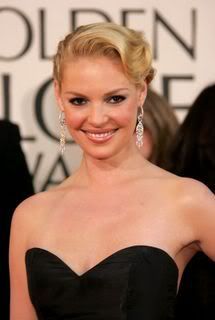 YES!!! -- Short dress done right! I just wish Tina Fey would carry herself with a little more confidence. She looks amazing! And then she stands there all awkward and it takes it down a bit...



It's always easier to feel better about yourself when you are standing next to David Spade. Much better: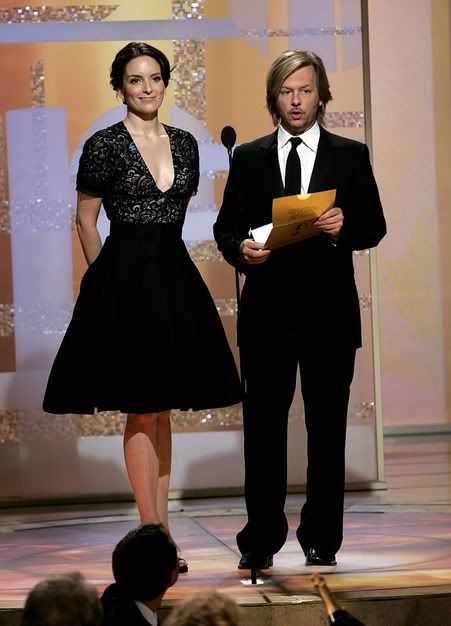 NO!!! -- Short dress done wrong. Where did that come from? Dots? The bedazzling embellishment was a bad idea.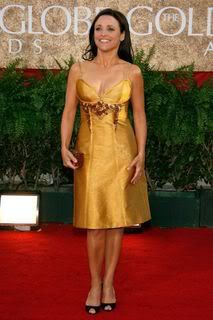 YES!!! -- Making the Asian's proud!



NO!!! -- Perhaps the biggest NO of the night. I think I heard the sound of the entire Asian population shaking their heads in disgust.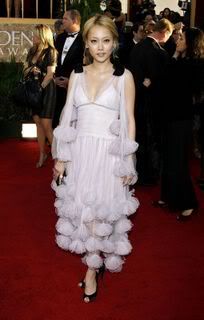 Ummmmmmmmmmmmmmmmmmmmmmm....what?