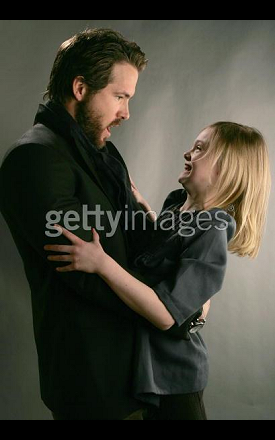 What is Ryan Reynolds' expression saying to the young Dakota Fanning that is caught up in his embrace?

A) Wow! Since dating Alanis for so long, I forgot about the joy that could come from holding a younger woman in my arms. Sorry about the boner, Dakota...

B) You truly are hideous up close, Dakota Fanning.

C) Keep smiling like a jackass, Dakota Fanning, and I will turn this hug into a bodyslam faster than you can say "Some Pig".

D) None of the above...think you know what's going on here? Leave your meanderings in the comments!

EDIT: UMMMMM....apparently this is not Dakota Fanning, but her little sister Elle. Shows how much I keep up on pre-pubescent celebrities. Change everything "Dakota" above to "Elle" mentally, as I am too lazy to do so myself. I must now go try to cope with the sad truth that there are now two Fanning youths about to terrorize America.