I kinda hate the Auto Show. If you are not lucky enough to live in or around Detroit, MI, the Auto Show gets a bunch of D-List celebrities together to stand in front of shiny new cars that will most likely never see the open road, and everyone in Detroit is fooled into thinking that the domestic auto industry is improving and therefore things are looking up for some of the TENS OF THOUSANDS OF PEOPLE laid off by the auto industry. Witness some of the douchebaggery that happened in our fair city over the weekend: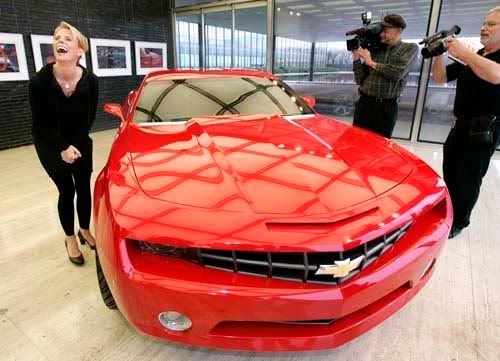 Cheryl Hines thinks cars are SO MUCH FUN!!! (This picture makes me sad, because I love Curb Your Enthusiasm, however I wish Cheryl would take a hint from the show's title. Cars don't make you laugh that hard, man.)



Problem #1 with the Detroit Auto Industry. Ed Welburn, General Motors Vice President Global Design, should not be anywhere near Rachel Zoe. Run away, sir.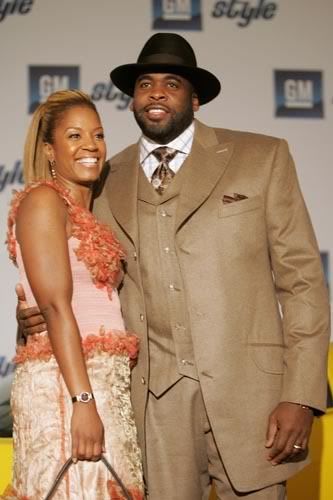 Problem #1 with Detroit in general. Mayor Kwame Kilpatrick and his lincoln navigator lovin' wife, Carlta Kilpatrick.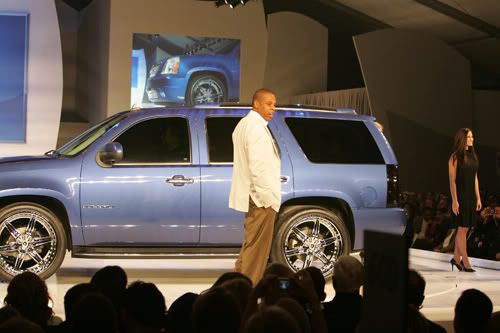 And while we are electing "Hip-Hop" mayors, and subsequenly being laid off from our jobs, Jay-Z is inventing colors for himself! Yes, that is Jay-Z displaying the GMC Yukon Denali is his very own color, Jay-Z Blue. Yes, Jay-Z has gotten so bored with everything else in the world that he made a color for himself. It looks blue to me. How would one distinguish between regular blue and Jay-Z Blue? All I know is Jay-Z Blue is obviously sweet, and regular blue is fucking lame.

Writing this post has now made me feel a little Jay-Z Blue...Sorry about the buzzkill of a post. Maybe if we paint the town Jay-Z Blue things will get better. I'm sure that deal is already in the works. Thanks Kwame!