I am a huge fan of this show and the FINALE IS ON TONIGHT!!! But I must say, this season I found a bit lacking. Sure there was a lot of crying and bitching and fighting, which I like...a lot. But there was something missing this season. Perhaps it was girls that actually look and act like models. For example: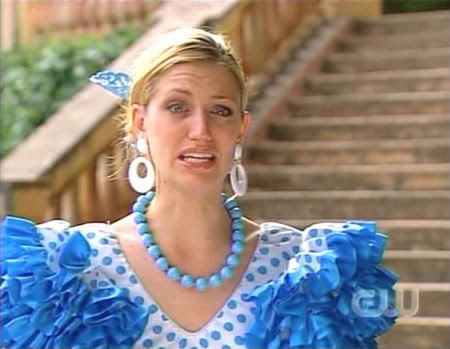 Top Model hopeful #1: Melrose

Even though I think Melrose looks nothing like a model, she is the ONLY one on the show that acts like a model. And by acting like a model, I mean acting like a straight up bitch. However, I was shocked at Melrose's lack of a response when Monique essentially wiped her vag on Melrose's bed, and the bitch did nothing. She just rolled over and slept in the remnants of Monique's vag wiping...I would have probably at least crapped on her bed in retaliation, but to each their own.



Top Model hopeful #2: Eugena

Eugena is boring. She is pretty, but forgettable. I was excited about her from the first episode because she was talking shit about all the past seasons of America's Next Top Model. Usually, the ones hate on all the past contestants are the biggest diva's of them all...but I think Eugena unfortunately realized that this was all going to be on TV, so for the most part she has been keeping her trap shut. She can look really pretty, but you know Tyra wants a diva to be the Top Model...which brings us to who I think will win:



Top Model hopeful #3: Caridee

Since I have to pick one of these girls to win, I think Caridee is the clear front-runner. She's got the drama (she pronounced to all the other girls that she tried to kill herself, and she told Nigel that he had a stick up his ass...), she's got the disgustingly rail thin body, and she actually can be cute when she's not trying to convince the judges that she's not a raging bitch. So, if my predictions are correct, congratulations Caridee! Have fun shooting "My Life as a Cover Girl" for next season, and...well, that's about all Top Model's ever get to do. I somehow predict that we'll be seeing you in soft-core porn in a couple years though...

If you only had one photo in your hand...who do you think will be crowned America's Next Top Model?????....

Images from Four Four, a hilarious top model blog.