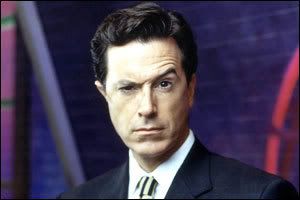 VS.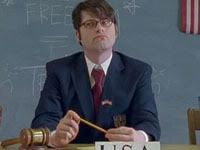 Pitchfork reports on the latest developments in the Colbert VS. The Decemberists feud. In case you haven't heard yet...Let's try to bring you up to date.

The Decemberists issued a challenge to their fans to make their next video. They filmed themselves against a green screen, and asked fans to supply the rest of the video. Stephen Colbert aired a segment on his show called "Who's riding my coattails now?" and accused the Decemberists of stealing his idea, as he has done a green screen challenge of his own in the past. He also urged his "nation" to use this opprotunity presented by the Decemberists to insert Colbert into the Decemberists video. Now, the Decemberists are firing back...

------------

"Mr. Colbert, assuming that we watch his show (ok, we do), went on to suggest that we had stolen his idea, calling us 'a bunch of coat tail riding jerks!' Who's riding on whose coat tails, sir?

"We already played out the light saber thing months earlier, live and on stage-- sans animation, stunt double and fancy green screen-- with pure rock, sweat and C batteries:

http://www.youtube.com/watch?v=51fCwGAue5Q

"So now, threatened by our video contest and in fear of losing both the House and Senate, Stephen Colbert is offering up his 'Second Green Screen Challenge':

http://www.colbertnation.com/

"We are asking our fans to help us win this epic battle. That's right, we want you to help us defeat Stephen Colbert in our video! Show us how you would 'Mulch' him, take him down to the banks of the Ohio, put a cap in his Dockers. Send them to him here:

http://www.colboard.com/cn/challenge.php

"and send them to us here:

http://www.mtvu.com/reanimatethedecemberists/

"Furthermore, we'd like to announce the very first 'Decemberists vs Stephen Colbert Guitar Solo Challenge'. Put down the pen, Colbert, and pick up the axe! Let's see what kind of a man you really are-- let's SHRED. Let truth and good music prevail!!!"

------------

I can't wait to see how this one pans out. I am truly hoping for lots of wang slips from both parties.