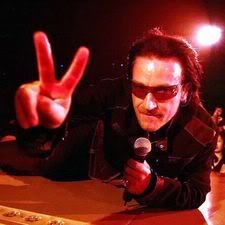 When I think of the biggest douchebags* in the entertainment industry...many, MANY names come to mind. Scott Stapp, Brandon Davis, Dr. Phil, Vincent Gallo, Ann Coulter, Donald Trump, Joe Simpson, Howard K. Stern, Paris & Perez Hilton, Isiah Washington, Kevin Federline, JARED LETO, Brett Ratner, Kimora Lee Simmons, Pete Wentz, Panic at the Disco (all of them), Michael Richards, Tony Little, Mel Gibson, I pretty much agree with anyone Best Week Ever nominates for their daily douche, Gwyneth Paltrow, Jude Law, Lane Garrison, Cameron Diaz, David Miscavige, Chad Michael Murray, Bette Midler, Brad Renfro, Dakota Fanning, Suri Cruise, Will Smith, Denise Richards, Charlie Sheen, Teri Hatcher, Eva Longoria, All of the San Antonio Spurs...

The list can go on and on, people...but i think you get the point.

However, if I had to name a King Douche...it would be, without a doubt, BONO. Now that pretentious, self-righteous, over-hyped piece of shit is in the news again (because you know he gets nervous if a day goes by and no one is mentioning what a great humanitarian he is...), this time, because he is offering the father of Madonna's African baby a job. The Sun reports:

"The U2 frontman thinks Yohane would fit in well at wife Ali Hewson's ethical clothing label, Edun, where she is the creative head.

He said: 'We're trying to get jobs to Africa then people will be able to keep their children.'"

Maybe, Bono...but Madonna isn't the only one to try to adopt a child from Africa (and isn't adoption a humanitarian act in itself? Madonna can certainly be a douche as well...but, rarely is anyone a bigger douche than Bono). But now, since there is all this press surrounding Madonna's adoption, Bono of course feels the need to chime in. "ME TOO GUYS! I'M BONO REMEMBER! I LOVE AFRICA TOO! I LOVE ANYTHIING THAT MAKES ME LOOK BETTER THAN ANYONE ELSE! U2 IS THE GREATEST BAND IN THE WORLD!"

...This was a bad choice to start the day. Now I'm all angry. Expect more unwarranted rage-fueled rants from me today. More than usual, anyway.

*Sorry if you think the word "douchebag" is over-used. Did you ever take a second to think about what a douchebag really is? Think about it...it's a pretty accurate word to describe certain people, no?