I love award shows!!! LOVE LOVE LOVE any and all award shows. Even if ABC was airing an award show highlighting only the marginally talented, I would watch every minute of it...

Last night, ABC aired an award show highlighting the marginally talented, the American Music Awards. I watched the show, in its entirety, and here are the top 5 moments...

#5) Sharon Stone's nipples: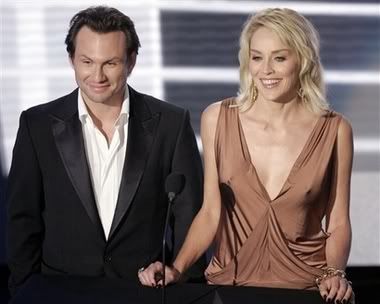 Wow. Them nipples were like lawn darts. I thought they were going to come through the TV and poke both of my eyes out. You can tell by the look on Christian Slater's face that he was thinking the same thing. I'm really glad that Sharon Stone stands by what she believes in. Classy, Sharon.

#4) Nelly Furtado's performance



Most artists choose to have a track playing in the background while the artist sings live. Not Nelly -- oh no, she's going to have an actual guy singing "Fickey Fickey" instead of having a pre-recorded track or a DJ to provide the actual "Fickey's". While I do love a good "Fickey Fickey" now and again, this was a bit ridiculous. I don't expect you to watch the entire video unless you are a gluton for punishment, as this song blows ass. But please, make it to at least 1:13 in, so you can see the genius of the "Fickeys".


#3) William Shatner and Sarah Silverman Present




Completely and Totally Shat-tastic! If anyone has the video of this, please send it my way. They were totally cute, and I am usually really annoyed by her. Plus, I just like to use the phrase Shat-anything.

#2)Jamie Foxx's family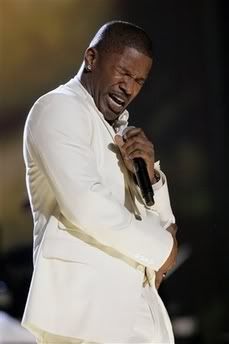 In a way, Im kind of glad that there are not pictures of this yet...as I am still a bit shaken up by the sight of his family. If you saw this last night, I KNOW you are thinking the same thing. What in the world was going on there? Jamie Foxx arrived to the AMA's with his entire family, including his "biological" mother (he pointed that out). He sang a song about how successful and great he is, but also about how sad he is that his dead grandma isn't there to see his success. How do you think that makes your freakshow of a family feel, Foxx? They are all there to support you, and all you can talk about is your dead grandma? What a dick...

#1) All the sluts.

When the pussycat dolls did their song and dance, I thought..."Now THAT'S what I call Slutty (Volume 10)"...but there were so many sluts to choose from, I don't know who to give the ultimate slut award to...

After much consideration, the #1 slut of the night goes to...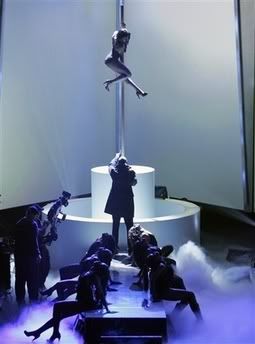 The stripper during the Akon and Snoop Performance. Obvious?...maybe. True?...Absolutely. She's a g.d. stripper!

And there you have it! Some other notable moments of the evening were: John Mayer doucheing it up during the pre-show interview with Ryan Seacrest, Gwen Stefani's awful performance (or maybe I just hate that song and all the yodeling that goes with it), Jay-Z having Dude dancers while Snoop Dogg brought sluts a-plenty, Josh Groban's face, and my first experience hearing/seeing Fall Out Boy and the comfort that followed knowing that my uninformed hatred for that band and all of its members was warranted.