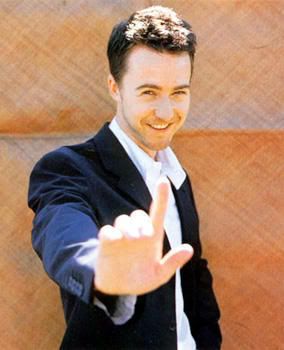 IMDB reports that Edward Norton is working toward banning gift baskets given to celebrities at award ceremonies. The story states:

"Actor Edward Norton is leading a celebrity charge to banish lavishing gift baskets on presenters at top awards shows. The Illusionist star is appalled by the freebies celebrities pick up backstage at events like the Golden Globes and the Oscars, while many people watching the ceremonies at home are struggling to pay the rent and feed their kids. He says, "A lot of us have talked to the Academy Awards producers about this and I think they're actually going to scuttle the gift baskets and that kind of stuff. I mean the gift baskets, worth amounts of money that a low income family could live on for a year, (are given to) people who have so much already. It gets depressing. You sit there, going, 'This is an embarrassment.'"

For real, Edward? Here's a better idea...send them all to me. I'll gladly take every gift basket you gift to me. And furthermore, if the worth of said gift baskets is really around $100,000, I think low income families could live on a gift basket for more than a year...Granted, they would be eating a Krups premium pump espresso machine or a certificate for a free dog training...but they would FEEL like a celebrity!

Somehow I just imagine Edward Norton shaking his head, mumbling about what an embarrassment this is, while he is at the store getting his diamond encrusted watched sized. Edward, give me a job as the head of your gift basket committee. I'll be sure that all the low-income families get all the T-mobile sidekick 3's and the juicy sweatpants their little hearts desire.